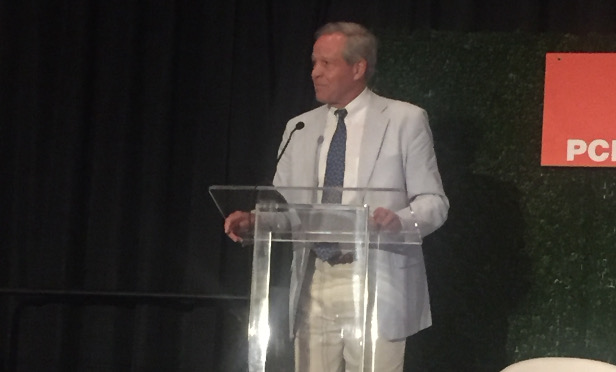 SAN DIEGO—Lifestyle changes, a housing-stock shortage and high homes prices have led to more people than ever—of all ages—choosing to rent an apartment rather than buy a home, and a serious apartment shortage is also in progress, speakers at PCBC told attendees last week. During the economic outlook and market overview, NMHC president Doug Bibby and Ron Witten, founder of Witten Advisors LLC said the apartment market looks strong despite some construction and investment slowdown, and demand is still high for this sector.
In his NMHC update, Bibby said the US will need 4.6 million more new apartment units by 2030 in order to meet demand; 646,000 in California and 73,000 in San Diego. This would require 325,000 units a year to be built. He added that tax reform is still a risk because sector-related changes could be used as a tax cut, and he called for transition plans to introduce any changes gradually. His organization has sent letters to President Trump and HUD regarding a rollback on affordable-housing funding regulations, and "things are moving slowly on infrastructure issues, but NMHC is staying vigilant," he said.
"Demand is the story," said Witten in his economic overview. While the market took a bit of a breather with regard to absorption in Q1 after a robust Q4 2016, there is no cause for concern because annual absorption has been strong. There has been some slowing of job growth since 2015, but the under-35 cohort has filled one million more jobs year-over-year, which is good news for apartments. Lease-up in some cities has been slower because of the high number of deliveries in those markets, and the suburbs are not filling up as quickly as urban apartment units.
The early part of 2017 saw an uptick in rent growth, Witten said, and he expects to see nationwide the beginning of stability with rent growth; we're just a hair over 3%, and we have a relative shortage of apartments, but in some markets—such as Nashville—supply is ahead of demand. In those markets, there are more renters but there are also more apartments. However, in markets like Seattle, renting is keeping up with deliveries. He said rents are up 4.5% in Dallas and 9.5% in Sacramento, so there is a broad range of increases, but the west is well represented in rent growth. In San Francisco, rent growth has been weak, but still positive.
Apartment starts are finally past the peak, but slowing is not consistent throughout the country. Starts are slower in California because it's hard to build here, Witten said.
Over time more and more households in the US of all ages have chosen to rent apartments, said Witten. The under-35 crowd is well above everybody else, but the age 35 to 44 crowd is above where they have been for years, demonstrating a long-term secular shift toward apartments. People are more likely to be renters nationwide, and demographics are an enormous tailwind.
Job growth has been reported, but there is a caution sign on this, Witten said. There is a corrected employment-growth figure for last year of 1.7 million jobs in the US, which has to do with labor availability—this indicates we don't have the labor to meet the job demands. Unemployment is low, around 4%, and it has been lower, but not for long.
The average wage was held down by hiring younger people with less experience, Witten added. "We will see a slower hiring pace for the next few years, but there's no indication of a near-term recession." The West Coast markets, including L.A., Orange County, Salt Lake City, the Inland Empire and Las Vegas—have seen strong job growth.
The homeownership rate for under-35s is not rising, although the overall homeownership rate is rising—albeit slowly because of lack of inventory, Witten said. Mortgage rates are expected to rise, keeping homeownership rates down, and there is a chronic undersupply of new homes. Apartment-investment sales are slowing, particularly in high-priced markets, and there are fewer institutional-investor deals for apartments overall. Experts are wondering if we are at the beginning of a recession or just hitting a speed bump, but it is more likely the latter, he said.