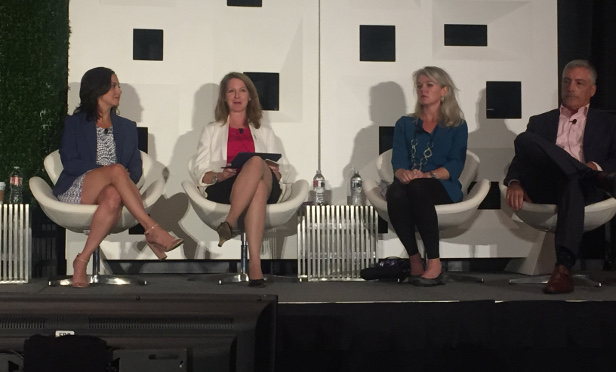 SAN DIEGO—In the past four or five years, mixed-use projects have become part of our culture, and we are embracing this asset class more as an extension of everyone's life, said speakers at PCBC here last week. Panelists on the session "The Magic Cocktail of Multifamily Multi-Use" said the desire for mixed-use projects goes along with the urbanization, walkability trend that has swept the nation.
"Creating lifestyle destinations 24/7 that people never have to leave" is how Kim Hoeksema, XVP development execution for Carmel Partners, described today's mixed-use development. She added that, in addition to work and home, it's important to have a "third place" in the project that's an extension of people's lives, such as a yoga place or restaurant. When you have the right amenities, people will buy the cheapest residence in order to be in the center and take advantage of those amenities.
Kimberly Byrum, principal, advisory with Meyers Research, said it takes time to harvest the benefits of mixed-use performance. These projects are more volatile than single-category projects, but the rent growth around mixed-use is around 120 bps higher than with regular multifamily projects, and the actual rent premium compared to straight multifamily in an urban submarket tends to be more than $200. But, said Jonathan Cox, SVP development for Avalon Bay, it costs more to deliver this product because the concrete plinth required is costlier than the slab on grade of straight multifamily projects, creating additional incremental costs. "There's a fine balance between costs and returns on mixed-use since the retail costs much higher than retailers are used to."
Moderator Cindy Harvey, associate principal in commercial architecture with RNL, asked about the ingredients needed for a successful mixed-use "cocktail." Byrum said, "People want to be near work." She added that there's not a lot of for-sale housing in mixed use, but she is seeing more conference centers, and some developers are talking about adding museums to the mix.
Hoeksema said that jobs drive residential and residential drives retail. One project her firm was working on had a bar with 64 beers on tap. Cox said, "Having a grocery store nearby or in your building is good, but having one next door in someone else's building is better" from an owner/manager perspective due to the issues with wet trash, sanitary lines and parking that complicate this use. "But grocery is the best amenity." Other strong amenities include a theater, soft-goods retailer, services and restaurants.
Byrum said since Amazon Fresh has caught on, there's been a call for cold storage for delivered groceries as well as organic grocers, which have become "like entertainment" for tenants. Cox added that there are issues with restaurants—you can't have people partying until all hours with multifamily tenants above, so you have to be sensitive to this.
In discussing mixed-use deals and how they've changed, Hoeksema said it's important to think about how parking will lay out with retail below it. She recommends having your attorneys lay this out. "We used to parcel [retail] out and ignore it, but now we pay attention to it and finish it before the residents move in." Cox added that retail on the ground floor doesn't always work. "The industry is gravitating toward explain this to planners. It needs density and needs to be walkable, so you need to put retail where it belongs."
The panelists also discussed the mixed-use needs of different demographic groups. Byrum said, in some uses there's a big delta among the different groups: hotel uses tend to draw a more mature crowd that likes ground-floor retail, for example. Cox said all demographic groups want convenience, security and walkability; the differences are the type of residential unit and the specific retailers in a project. He add that it's important to agree upfront on façades, lock in all retail services for the most-intense use and over plan for restaurants when it comes to venting, power loads and trash.