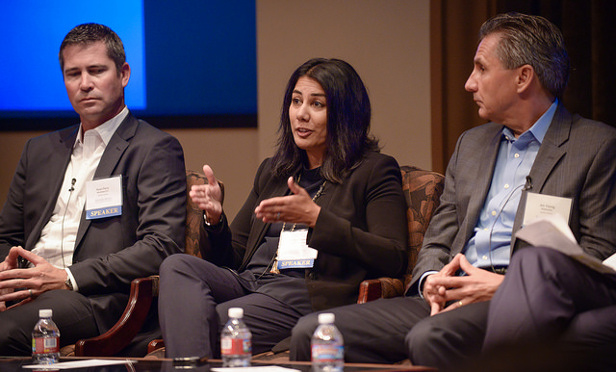 SAN DIEGO—Retail real estate developers will have to adapt quickly in order to stay in the game by choosing tenants who are online resilient, adding stores within stores and using service-based concepts with no inventory, said panelists at the "Changing Face of Retail" event hosted recently by the Burnham-Moores Center for Real Estate at the University of San Diego's School of Business. Panelists included Jim Young, co-founder and CEO of Realcomm; Ryan Perry, senior general manager of Westfield UTC; Stuart Tanz, president and CEO of ROIC; and Anjee Solanki, national director of retail services for Colliers International US.
Moderator Brad Geier, co-managing partner of Merlone Geier Partners, opened up the session by asking, "Why would anyone want to invest and develop retail real estate?" which led to a discussion on the factors currently influencing the market and the transformation of retail space today.
Young described the main elements currently shaping today's retail industry: the desire for human social interaction, the industry's reputation of poor customer service, threats from online retail, inventory issues, obsolete design and the omnichannel—a multichannel approach to sales that seeks to provide the customer with a seamless shopping experience whether the customer is shopping online from a desktop or mobile device, by telephone or in a bricks-and-mortar store. Young pointed out that most individuals would say that the threat from e-commerce is the biggest consideration for future evaluation of retail assets. While only 10% of the market is driven by online sales, this figure is expected to grow substantially over the next couple of years, and this kind of market infiltration will force retailers to change how consumers purchase products.
Solanki noted that while e-commerce still represents a small percentage of retail sales, department stores are not growing. What is new is that we are talking about "experience per square foot" versus "sales per square foot." As humans, we still want social interaction.
Another area of focus for the event was the fact that the landscape of the retail market is more dynamic today than ever before. The retail sectors will see evolution not only in product distribution, but also in consumer shopping patterns. Every year, $3.2 trillion dollars are spent at bricks-and-mortar stores, and while spending dollars per household has gone up, the number of products purchased has gone down. Solanki pointed out that in 1994-1995, women bought an average of 70 personal items such as clothing per year, compared with 30 to 40 items today.
Consumers are becoming concerned with where their products are made and the quality of design. The challenge for retailers today is how to place their products visibly where people spend their time and how to create social interactions that construct brand loyalty. Perry discussed the increasing demand for retail space for brand marketing "pop-up" stores. Companies like Tesla, Amazon and Warby Parker are signing short-term leases in an effort to create a physical presence with consumers. The invention of these "pop-up" locations challenge current leasing techniques like sales-percentage lease agreements. The big question for investors will be, how do you appraise a space that does not have a sales cash flow?
The panelists also gave insight into the question, what are some of the innovations we will see in retail space in the future and how will this change the way the market does business? Tanz said that property owners will need to choose tenants who are online resilient. He believes that necessity-based retail like drug stores, eateries and grocery stores—especially ethnic markets—will see consistent demand. However, grocery stores may experience a downsizing shift, from around 50,000 square feet to about 25,000 square feet. Strip malls will also need to add designated parking spots for home delivery drivers. Large retail suites may reconfigure their sales floor to encompass a "stores within stores" format where each product category is designated with its own sales-floor space and graphics, in addition to a knowledgeable and highly trained sales associate.
The goal is to create an inclusive and personalized customer experience, said Tanz. This was one technique that proved successful for the last remaining tech retailer, Best Buy. Consumers will look to spend their money at shopping centers that offer a cluster of specialized units like health, wellness and beauty. Solanki noted that bricks-and-mortar does assist with online sales and it is necessary to offer both on-line and in-house service. She also mentioned the "bricks without merchandise" concept that Nordstrom is currently testing, featuring a 3,000-square-foot, service-based retail concept with no inventory. This micro store will offer services from personal stylists, tailors and manicurists. The concept introduced additional discussion about Nordstrom being able to service a larger market with two stores where they used to have five. Stuart also predicted that stores may adopt virtual-reality shopping experiences in retail spaces where orders are placed in stores and later shipped from warehouses.
The panelists also said that factors influencing the market have indicated that big-box retailers will have to change. What does this mean for the space they occupy as anchor stores in power centers or regional malls? Perry believes we will begin to see new retail categories that become a part of the consumer's community. Suites vacated by Robinsons May and Sears are now being redeveloped as fitness gyms, movie theaters, offices and multifamily units. In addition, Young, who is a tech futurist, predicts that an alternative use for these anchor spaces may be production facilities when 3D printing becomes more efficient.
Each of the panelists brought forth a unique outlook on the future for the retail market space industry, but one thing they all agreed on was the necessity for asset-class diversification within individual large-scale properties. Consumer trends seem to favor redevelopment that creates "town centers" including dining, fitness, office and residential spaces, all in one. With the growing threat from the e-commerce market, bricks-and-mortar retail investors will need to create an innovative consumer experience that is both convenient and customer-service friendly.