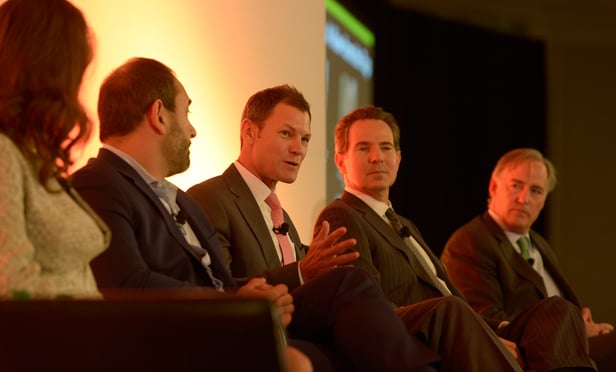 ATLANTA—The future of brokerage is a hot topic on the minds of commercial real estate professionals of all ages. It was also one of the key issues discussed at the CCIM Thrive Conference Oct. 24-25 in Atlanta.
James Huang, president of Sperry Commercial Global Affiliates moderated a panel aptly titled "The Future of Brokerage: A View From the Top." Five panelists joined the discussion, including Yan Khamish, managing director of Ten-X; Jay Olshonsky, president of NAI Global; Diane K. Danielson, COO of SVN; Joe Stettinius, Chief Executive of the Americas for Cushman & Wakefield; and Scott Nelson, president of Occupier Services and Corporate Solutions at Colliers International.
"There are a lot of challenges coming," Danielson said. "Commercial real estate will evolve to more community-centered. Money is coming into more spots, into second and third tier markets. You have to be able to tell the story of the city—and use the data to tell the story now but also to tell the future. We have to stay on top of whatever the next thing is going to be."
While Danielson started off talking tech, Khamish focused on relationships. His two-word opening line: Relationships matter.
"At the end of the day, what you do is so relationship-based," he said. "The technologies out there are going to enhance those relationships. They are going to improve them. The technologies are not here to replace. As a former broker, I've taken a private client through an acquisition or disposition. It is a lot of handholding. So you need better tool, better resources, to do more. That's where the CRE technology is going to evolve into. What tools can we provide this community to do their jobs better?"
As Nelson sees it, a broker today is essentially a business consultant with real estate experience. While the traditional value of a broker is market intelligence and getting comps, technology can now offer that broadly to the masses. The broker's value going forward is to help companies with strategy.
"Many clients today are in a war for talent," Nelson said. "Giving clients advice on recruiting and retention based on real estate strategies—and giving them tools to help them make those decisions—is how you add value today more so than five or 10 years ago."
In as soon as five years, Nelson predicted, brokers will need to prepare for technological disruption. He points to Uber and Ten-X as examples. Leasing could be next.
"Maybe people will start hiring brokers more through an online portal," he said. "Being able to assemble a team—it could be a team of third-parties in the case of a sole proprietor or smaller firm—to find a solution for the client is important. The skill set is changing in regards to how a broker may excel in the future."
Stettinius agreed. He said "team" is going to be one of the biggest challenges moving forward, adding: "What a wonderful time to come into the business. Everything is online and mobile."
Olshansky used an analogy. Brokers used to be like star actors and now they are like directors, coordinating the many moving parts for the consumer's benefit. That means accessing other services—and it means both technology and team.
"Ultimately what the client aims for from a broker is access to information, analysis, other people and opportunity," he said. "That's a big change. We used to just run a process and the rest will happen… You have to have more tricks of the trade, more resources and more relationships."
What about industry consolidation? We saw it in 1995, 2001 and 2010. More is expected. Stettinius told the audience the firms they have created hold value.
"Even though we're in the services business, the amount of capital you need to compete for talent, grow and drive new technology is significantly more than when we were using a phone book and an HP12C," he said. "The idea that we are creating value as firms and we need capital in order to success are big drivers. The pie of one-off clients in a certain market is shrinking. Its still a vast pie but it's shrinking each year. If we want to grow we have to access more of those relationships."
Danielson, for one, is relying on networks. She believes in networking with other groups, especially in secondary and tertiary markets, because there's strength in numbers.
"We are competing with global companies," she said. "We don't know all the buyers. There is so much we can't control the numbers. We need to be expanding our markets, expanding your specialties. You may be a generalist in your market, but generalists are going away. Team up with others who have that specialty. We need to have cross border relationships."
Khamish was quick to point out that technology is being developed in many ways. There's tech for tenant reps, for landlord reps, and so on. He sees an "incredible opportunity" for those tools to enter the middle markets, especially with about $40 billion of brokerage commissions created in one- to 10-man operations. Danielson agreed.
"Don't just not ignore tech or hope it gets easier or better, but embrace it," she said. "We have dinosaur companies because we are also in a war for talent. If they see we don't want to participate in the world of Millennials in tech, they won't want to work with us. The clients are getting younger and younger. I stopped wearing suits sometimes and work from a WeWork space."
That's where the discussion turned to an aging industry. Right now, the industry still largely looks like, as Olshansky put it, "a bunch of older white guys." But that's changing.
"As you look at future of brokerage it's not going to look like this room," Khamish said. "It's going to be much more diverse in age and background. We have to figure out the hiring problems. None of my kids want to be in the real estate business—and most of our kids don't—and they certainly don't want to work on commission."