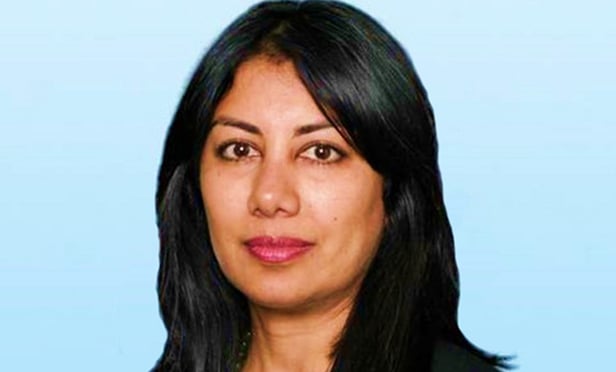 SAN FRANCISCO—Becoming ingrained in a community requires an investment in public outreach, judicious use of technology and deep analysis, but it can make the difference between a store's success or failure, Colliers International's national director, retail services USA Anjee Solanki tells GlobeSt.com. With brick-and-mortar stores looking to connect with consumers and give them a reason to come in and shop, it makes great business sense for the brand to try to become an intrinsic part of the community.
Solanki shared recent shopping stats with us, including the fact that the average consumer makes an estimated 52 shopping trips per year, 32% of shoppers visit three to four merchants per trip and 20% of shoppers visit five or more merchants per trip. These trips include cross-shopping behaviors, for example: 68% of consumers shop for both food and retail during a single trip, while 26% shop for retail only and only 8% shop for food only. So, creating opportunities for cross-shopping also makes great business sense.
But how do retailers do this? They begin by introducing their brand into the grain of established communities, says Solanki. She references a recent article in Colliers' "Knowledge Leader" magazine that discusses how Eddie Bauer gives back to the communities where it is setting up shop by utilizing its marketing and operations team to visit local schools and businesses and attend local chamber of commerce meetings to make the community aware that the store is coming and the value it will deliver to community members. "Eddie Bauer creates partnerships with these organizations and builds events around those locations.. They give away freebies so people will come back into the store, and they learn about the surrounding community in a way that emphasizes what is important to the people of that community. If wellness is important to their lifestyle, here's how Eddie Bauer will support that lifestyle—maybe by donating running shoes or athletic clothing to those in need."
These actions create loyalty, since consumers will think of the Eddie Bauer brand first when they need running shoes. In addition, taking the time to establish these relationships helps the retailer build trust with the town as the brand is looking to get plans approved," says Solanki. "It can help expedite the approval process—not by prioritizing, but there's an awareness, and there can be ways to help shepherd projects through within the guidelines and through compliance."
Creating events around a retailer's entry or presence in a community is another way to reach out to that community and strengthen relationships. Events that are natural extensions of the brand—such as workout or yoga classes for an athletic brand or cooking demos for a kitchen store—are ways for the brand to connect. "It's a whole give and take," says Solanki. "REI did a bike-repair class. The ownership of the center is putting in the commitment by hosting these events and, in addition to the brands, is paying for the marketing and ads associated with the events."
The process works equally well for a new restaurant concept and can be taken a step further by tailoring each location to the specific community it serves. For example, adjacent to Potrero Hill in San Francisco, is the historical Dogpatch Neighborhood—part industrial, part residential and becoming recognized for its great dining options and wide array of unique shops and cafés, many occupying buildings once utilized as industrial spaces. The Dogpatch Bakehouse & Caffé was created as an homage to this bright and beautiful neighborhood, incorporating many of the same stainless steel and reclaimed wood architectural design elements. The Bakehouse is actually located in the San Francisco Airport. It serves as nice reference point for locals and a reminder to those visiting, says Solanki. "It's no different from other brands. Amazon has a bookstore in Seattle that is branding to the community by listing what the top-10 favorite books are in that community—not the employees, but what the local consumers are asking for or reading. This provides value and illustrates their appreciation for the local community."
"We have done this in a number of ways for our clients," says Solanki. "The clients host different projects and events whereby our management team will set up a table at a farmer's market and ask the community what type of retailers or restaurants they'd like to see there. We've received tremendous feedback from customers about the type of stores they would like to see in 'their' project. When you get a community to buy in, you really benefit by not just taking that information and reviewing it, but by taking it and reconnecting with customers thanking them through Facebook, Twitter or Instagram. A lot of sophisticated retailers see that appreciation." Nike is another great representation of giving back to the community, she says, they are closely tied to the community, customizing events for locals and they are seeing success.
Returning to the cross-shopping statistics mentioned earlier, it's important for retailers to cluster together with complementary businesses vs. standalone. "Think of the average shopper," says Solanki. "Everyone is looking for the best deal or options. If you cluster home furnishings within a zone, people will cross-shop to get the best deal or search for items to complement what they're buying, so they'll buy multiple pieces. I may like the sofa at Crate and Barrel, but I might want to go to West Elm because I like the variety of rugs they carry and then visit Ethan Allen for tabletop accessories to accent the room."
Having the ability to go to a zone within a retail project creates a sense of convenience for shoppers and provides more opportunities to buy. "We see cross-shopping synergy and more opportunities for individuals to buy something they may not have thought of before," says Solanki. "The same with fashion, clothing and shoes, or with food, wine and dessert. When you cluster establishments that offer these items together, the customer spend increases."
A couple of new tools have entered the market to help retailers study the community and behaviors. Comprehensive trends and statistics ranging from the percentage of women who wear athlesuire and their average spend, to what percent of people purchased goods at a specific department stores in the past six months or which major stores were shopped in the past 30 days," says Solanki. "There are other tools that can provide average sales-per-square-foot information and which side of the shopping street is stronger. Google Tech will soon be coming out with foot-traffic-count software—primarily for streets, not for shopping centers."
Google Tech already has software out there to help restaurants see peak hours on a street within a period of time, Solanki adds. Retailers are doing this as well, taking their top 10 to 20 key attributes and seeing how they match to an area. "Site selection today is far more data driven than I've ever seen it. Evaluating historical data to forecast drivers and determine the next demographic shift is incredible."
Naturally, retailers want to know how to cater to multi-generational audiences, such as Generation X, Y and Z and the Baby Boomers. Solanki says Amazon is brilliant at this, but there's a new reverse brick-and-mortar method whereby stores like Macy's, Target and Best Buy are using their brick-and-mortar as well as their mobile technology to connect with their customers. Baby Boomers for example are well educated and want to have the freedom to shop online or in-store—the key is making sure the app and the online experience are very easy, simple to maneuver through and that the engagement with that consumer continues after they transact."
Solanki adds that retailers are training their staff to encourage a second point of sale when a customer makes an in-store return after making an online purchase, which can generate a higher sale. With the rise in the availability of data, it has become more relevant that retailers continue to expand their focus and appeal to the developing multicultural markets. Taking a general market approach can close the door to a wider audience, market share, and spend. It's important to be aware of the cultural audiences in a retail market, and learn from the diversity that exists in communities to create targeted retail experiences. Kmart, as an example, has built a relationship and communication with a group of blogueras (Latin bloggers). CVS Pharmacy offers products and services aimed specifically at Latinos in certain markets, says Solanki "The average person (or teen) has a smartphone and access to technology, which will continue to drive data, which in turn will drive how retailers and owners position themselves to drive consumer behaviors that will drive new opportunities and growth. Retailers need to be smart about who their audience is and thoughtfully exam the information in segmentations that will break down into actual buying behaviors for different cultures, ages and communities. The growth of data in retail has made this possible."