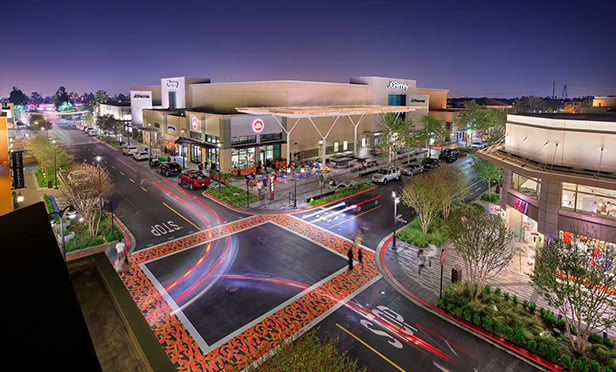 RANCHO CUCAMONGA, CA—Victoria Gardens is an open-air regional lifestyle center developed and managed by Forest City located in the city of Rancho Cucamonga in San Bernardino County at the heart of Southern California. The award-winning main street-designed lifestyle center includes more than 170 places to shop and dine within 1.4 million-square-feet of space. According to general manager Christine Pham, the center's focus on consumer experience and attracting forward-looking, on-trend retailers with strong brand followership has created a retail environment that consumers enjoy, remember, and want to revisit over and over again.
GlobeSt.com spoke with Pham to get the picture on new tenants and its retail strategy for the ICSC Western Conference and Deal Making 2017.
GlobeSt.com: Who are some of the new retailers joining Victoria Gardens?
Christine Pham: As Victoria Gardens continues to attract on-trend, forward-looking retailers with strong consumer followings, we are also capitalizing on the popularity of dining destinations. Over the past year, we have added:
Punch Bowl Social – A gastro-diner and entertainment destination in its first California location
The Pie Hole – a local LA favorite that will be establishing its first Inland Empire presence this fall
Dog Haus – a gourmet eatery with more than 25 locations nationwide
Jack's Urban Eats – an urban cafeteria, serving award winning, farm fresh affordable that is proudly recognized as an innovator of California's farm-to-table movement.
The State – A communal-focused open air bar and restaurant serving American cuisine with rotating craft drink options.
Recent retailer additions include international fashion powerhouse Zara, planning to open summer 2018, as well as GNC, Aveda, Swarovski, NYX Professional Makeup, Soma sleepwear, and Pandora jewelry.
GlobeSt.com: Is this a reflection of a changing consumer base or consumer expectations?
Pham: Retail is always a reflection of changing consumer preferences. Owners that understand and navigate these changes proactively are the ones who thrive. At Victoria Gardens, we continue to attract retailers that deliver what today's consumers are seeking. In the current retail landscape, this means creating experiences that consumers enjoy, remember, and want to revisit over and over again. For example, within the past two years, we renovated one of our main shopping streets – Monet Avenue – by updating the building facades, widening sidewalks, creating new outdoor patio dining areas and parklets.
These site upgrades enable us to continue to attract modern, experience-based retailers for our guests. We also continue to support retailers in expanding and elevating their experience for consumers.
H&M, for example, is one of our center's longstanding tenants, and we recently launched a renovation that will double the store's space and completely upgrade its interior, adding even more space for clothing for men, women and children.
GlobeSt.com: How else are you changing the Victoria Gardens customer experience, especially in light of the growth of online shopping?
Pham: In addition to providing our guests with access to the most in-demand retailers and eateries, Victoria Gardens maintains an active calendar of community events that attract and entertain guests of all ages – further positioning our center as a leading destination in the community. From "yoga on the green" and summer movie nights, to free pop-up concerts, a weekly Farmers Market and monthly kid's events that attract hundreds of children (and parents), we offer experiences that our guests want to visit time and time again. One of our most popular events is "Tour de Fork," through which we partner with our restaurants and businesses and give guests a chance to sample local food, wine and beer for one small entry fee. This event sells out each year, and we donate 100% of the proceeds to local non-profits, giving us an opportunity to connect with our community and simultaneously demonstrate our commitment to good corporate citizenship.
GlobeSt.com: How do you see Victoria Gardens and the surrounding area evolving to meet the needs/interest of the younger population?
Pham: Victoria Gardens is constantly evolving to ensure we remain a modern, entertainment-focused lifestyle destination that is activated both day and night. On-trend retailers and dining destinations, exciting events, and valuable community partnerships aid in this evolution. Further, we pay attention to items that the Millennials and Generation Z care about, and we deliver on them. For example:
Connectivity: We offer hot spots with free Wi-Fi, as well as charging stations to ensure that our guests are always connected.
Sustainability: Our center features sustainable elements such as LED lighting and drought-resistant landscaping, demonstrating our commitment to environmental responsibility.
VIP Incentives: Millennials and Gen-Z want to be in the "inner circle." We offer social media and text clubs that deliver shopping incentives to our VIP guests in the know.
Gathering Areas: We've created comfortable areas for our shoppers to stop, chat, and recharge their phones and themselves while deciding which store to visit next.
By creating an atmosphere where guests can shop, dine and be entertained all in one place, we are catering to current consumer demand and meeting the needs of the next generation.