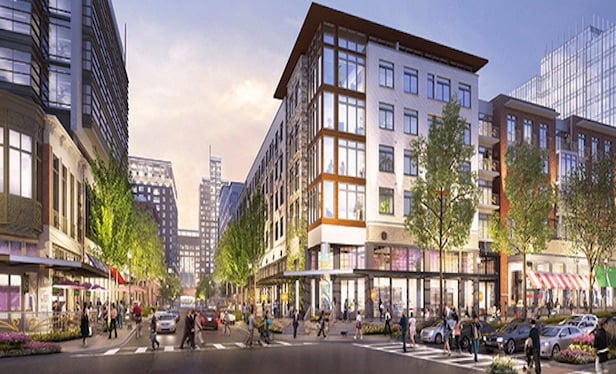 ROCKVILLE, MD—The mixed-use community Federal Realty Investment Trust is building on Rockville Pike, the Pike & Rose, is the REIT's pride and joy — not to mention a growing source of revenue. Development of phase 2 is well underway now and the REIT is projecting an ROI of 7%.
There's a potential rub though: rent rates for the apartment building that delivered in phase 1, the Pallas, are not as high as the REIT originally projected and it is beginning to doubt it will reach its rent dollar forecast, according to its earnings report and conference call for the first quarter.
The reasons are simple and straightforward — there is significant supply in the market. Also, the fact that the building is surrounded by ongoing construction is not helping either, although that is not hurting the number of renters signing leases.
Given all this market watchers can't help but wonder if it is possible that the local apartment market is nearing supply saturation?
Perhaps — and we will look at that in a moment — but first a few points to consider about Pike & Rose.
The community is not within walking distance of a metro, at least not comfortable walking distance as Rockville Pike is a major thoroughfare. While demand may be increasing for suburban living, transit-oriented apartment living is still the gold standard for most renters. What this means is that suburban apartments will be competing for a smaller base of tenants.
Federal Realty may not be at the specific rent rate it had hoped to achieve but it is close, according to CEO Don Wood's comments during the REIT's Q1 earnings call held earlier this month. Average monthly rents at the Palace are around $2500 a month or $2.40 a foot for a 20% premium over the North Bethesda Rockville submarket.
In addition, the penthouses that are part of the complex are fetching more than $6000 a month, "setting new high water marks for this market," Wood said.
Furthermore, these are mainly 12-month leases giving Federal Realty ample opportunity to increase rental streams in the years ahead.
Renting activity is strong and now stands at 73% and Federal Property predicts the Pallas will be full by year-end or slightly after.
A Yield Under Pressure
Still, missing the mark with projected rent rates will sting a bit. CEO Don Wood told listeners during the REIT's Q1 earnings call that its initial yield may be under pressure by 50 basis points or so. He said, according to a Fair Disclosure transcript:
The bottom line is we were too aggressive in thinking what we were going to be able to get for residential rents and the marketplace has an awful lot of supply on it and the place is absolutely a construction zone and will be for some time. And so what I always worry about when changing numbers like this is that there is a taint on the project itself because there can't be. The project is going as well or better than we expected in terms of its acceptance, even in terms of its rent performance on the residential side compared to the marketplace. It is just that the marketplace is significantly lower than we had hoped and thought it would be when we underwrote this. It is all of that.
Not Quite a General Trend
Larger fundamentals somewhat reflect what Federal Realty is experiencing. In its Q1 report on the Mid-Atlantic apartment market, Delta Associates reported that metro area Class A rents increased by 2.6% over the year. For Class A and Class B combined, metro area rents increased by 2.4%.
Over the past 12 months, metro area rents grew at the fastest pace since 2010, the report stated. "However, we expect this to be temporary, as the large volume of new product yet to deliver in 2016 will test the strength of the market and dampen rent growth for the year."
But absorption is still strong, according to Delta, which suggests the market hasn't reached a state of oversupply yet.
It reported that:
Washington continues to experience above-average Class A absorption, as 12,427 Class A units were absorbed in the 12-month period ending March 2016 – more than double the region's 10-year average. Absorption including Class B product totaled 12,721 units.
The area's apartment pipeline, though, does appear to be moderating a bit:
The 36-month development pipeline is down 8% from a year ago to 33,579 units, although it increased slightly from last quarter. Construction starts over the year decreased by 5% from the prior 12-month period to 10,177 units. However, nearly 3,500 units started construction in the first quarter. Meanwhile, 10,422 units delivered over the past 12 months and another 13,944 units are scheduled to deliver over the next 12 months.
More about Federal Realty's Phase 2
So this is where Federal Realty stands with Phase 2: it is moving forward but it may be more conservative in its projections, depending on how the next quarter or so goes.
Federal Realty Phase 2's costs are between $200 million to $207 million, according to investor materials. It will include some 190,000-square feet of retail (and the Federal Realty has already signed REI and Pinstripes as anchors for that space), a pre-leased auto dealership building, a 177-room Canopy by Hilton, 272 luxury residences and 104 for-sale condominiums.
The projected opening is late 2017 and early 2018 with an anticipated stabilization date of late 2018 and 2019.
Subject, of course, to a possible revision in the next quarter or two.