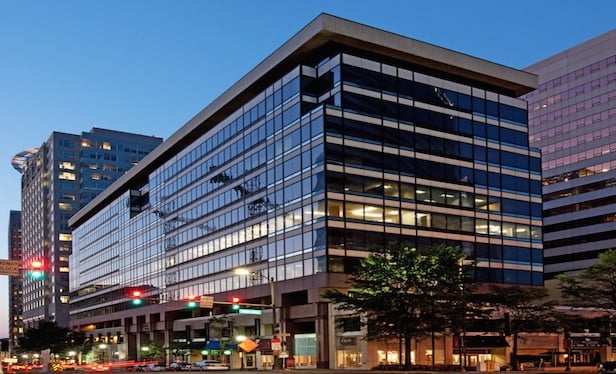 ROSSLYN, VA–The Bethesda, MD-based Meridian Group has made another acquisition in the area, months after it picked up 1400 L St., NW and announced it would invest $16 million in renovating its $69 million purchase.
Its newest purchase is International Place, a 12-story, 293,539-square foot office building located at 1735 Lynn St., in Rosslyn, Va., that it reportedly acquired for slightly more than $100 million. The seller is Boston-based Beacon Capital, which was represented by Bill Collins and Paul Collins at Cushman & Wakefield.
As it is doing with 1400 L St., NW, Meridian is planning to renovate the building, which has already undergone a recent $4.4 million round of improvements including the addition of a fitness center and conference center. Meridian plans to upgrade the building's lobby and other common areas.
Beacon Capital Selling Off Its Assets
This is Meridian Group's second transaction with Beacon Capital in the past seven months having purchased 11111 Sunset Hills Rd. in Reston, Va., from Beacon in December 2015. "Both transactions are excellent value-add opportunities that fit our investment strategy well," said David Cheek, president and co-founder of The Meridian Group in a prepared statement.
(Beacon is selling a third local property in a separate deal to another buyer: its 328,741-square foot office located at 8300 Boone Blvd., in Vienna, VA, is trading for $69 million to Banyan Street Capital, a private equity firm based in Miami).
International Place is located across the street from the Rosslyn Metro station. It is 90% leased to such tenants as USPS Office of the Inspector General and the State Department.
Six Acquisitions
For those not keeping count, International Place is the sixth acquisition Meridian Group has made in this real estate cycle. The other properties are:
An 18.1-acre site that Meridian is developing into The Boro, a mixed-use development in Tysons, VA, that is located within walking distance of the Greensboro Metro station. The Boro will feature 3.7 million square feet of offices, apartments, condominiums, upscale stores, restaurants and entertainment.
1400 L St. NW, a 12-story Class A office building at the corner of L and 14th streets in Washington, DC.
11111 Sunset Hills Rd., a 216,000-square-foot building located near the Dulles Toll Road and the Wiehle-Reston East Metro station.
800 K and 801 Eye St., two adjoined office buildings in the campus formerly called Techworld and now known as Anthem Row. Meridian is planning a renovation of the 758,000-square-foot office complex, located between Mt. Vernon Square and CityCenterDC.