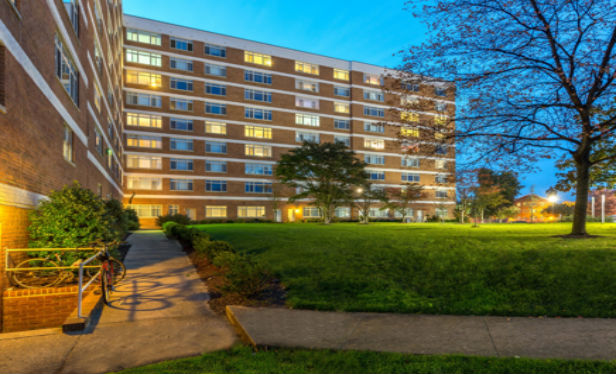 WASHINGTON, DC–JLL just announced it has closed the sale of two multifamily properties in the area in two separate transactions. While completely unrelated except for JLL's role, the deals provide an interesting snapshot of two different aspects of the area's apartment market.
On behalf of MacFarlane Partners, JLL closed the sale of Dominion Towers, a 330-unit multifamily asset located in Arlington, Va. Capital Investment Advisors purchased the asset for $63.3 million. Christine Espenshade and Robert Garrish led the JLL team on the transaction.
"Multifamily rental rates continue to increase and Dominion Towers' recent renovations position the property to benefit from these gains," Espenshade said in a prepared statement. "In addition, its location in the heart of Columbia Pike will draw in renters as the area continues its revitalization."
It is, in other words, your standard apartment play that is the backbone of the area's apartment investment market. MacFarlane read the market demand correctly, invested in renovations to gain some rental upside and then exited when the time was right for it.
Now on to deal No. 2. In the District, JLL announced it closed the sale of Fort Chaplin Park on behalf of E&G Group. GlobeSt.com reported on this transaction in October when it closed. The 549-unit multifamily asset was purchased by Standard Property Co. for $49 million.
Espenshade and Garrish worked on this deal as well.
But unlike the Dominion Towers transaction, this deal is more complicated and in the near term it is likely the market will see fewer and fewer of them. See, this transaction was financed with Low Income Housing Tax Credits.
First, though, some more details about Fort Chaplin Park and its new owner.
Standard Property Co., a Los Angeles-based nonprofit, will renovate the property in a $96 million project, according to the District of Columbia Housing Finance Agency.
DCHFA issued some $61 million in long term tax-exempt bonds for Fort Chaplin Park's acquisition and rehabilitation and $30.2 million in equity was also raised through the syndication of low income housing tax credits.
Fort Chaplin Park's LIHTC status and consistent ownership presents the opportunity to secure additional tax credits for acquisition and additional renovation, Espenshade said about this transaction.
Which is what happened and just in time as the transaction closed before the presidential election. Since the surprise results, the LIHTC market has gone into a state of disruption because of the expectations that there will be a major corporate tax overhaul, David Brickman, executive vice president and head of the Multifamily Business at Freddie Mac, told GlobeSt.com earlier this week in a separate interview.
"We are seeing some deals fall apart right in front of us due to the uncertainty about valuation of tax credits given the prospects for tax reform and the prospect of lower corporate tax rates," Brickman says.