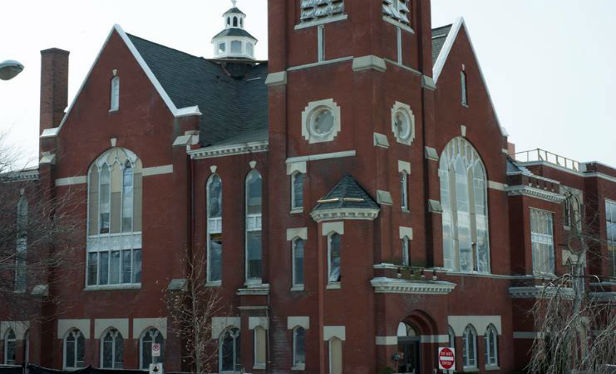 WASHINGTON, DC–The Rubin Group and Regua sold a penthouse condo in their church-to-condo conversion project at 819 D St., NE for $1.525 million — a record for the submarket since 2008.
The sales price jives with a larger 10% year-over-year increase in condo sales in the Capitol East submarket for the first quarter, according to a separate report from Delta Associates.
Indeed Rubin Group must have had a glimmer that some of the units would fetch a price around this amount — last summer Urban Pace announced it would be pre-selling the condos in this building, which is called The Sanctuary, at pricing that ranged from the mid-$300,000s to over $1 million.
The Sanctuary is located in Capitol Hill's prestigious Stanton Park neighborhood, plus it has the added bonus of its unique and beautiful bones and interesting heritage.
A Beautiful Place
The building was once a 19th-century Gothic Revival church. It was built in 1897 by The Disciples of Christ and called The Ninth Street Christian Church. In 1915, the church added a large fellowship hall in the same style, and later acquired two adjoining townhouses. For the last 50 years, the church had occupied by The Way of the Cross Church of Christ until it decided to build a larger campus in Capitol Heights, MD.
When The Rubin Group and Regua did the conversion they were careful to keep the soaring ceilings, stained and leaded glass windows, and other century-old features in place. "What drew me to this space is that it is art," said the buyer of the penthouse, who has chosen to remain anonymous according to Urban Pace. "I love the idea of raising my family in a bell tower and living within a 120 year old church on Capitol Hill."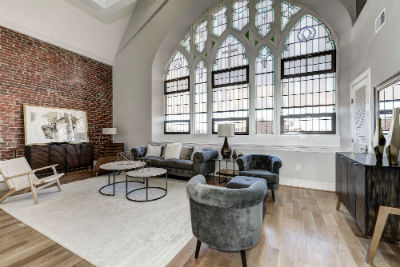 Rising Prices In A Few Submarkets
While the Sanctuary clearly is a unique product, condo prices increased in general in Capitol Hill East during the first quarter while remaining steady in most of Washington, DC's other submarkets, Delta reports.
Metrowide, there were 433 net sales of new condo units in the first quarter of 2017, a significant increase from the 317 sales in the first quarter of 2016, according to Delta. New condo sales were up in all three of the region's states. The District saw sales increase 13.6%, while sales increased even more sharply in the suburbs, by 49.5% and 30.5% respectively, in Northern Virginia and Suburban Maryland.
Besides the Capitol East DC submarket the Fairfax/Falls Church area and Montgomery County were the only others submarkets to experience positive price growth during the period, at 3.4% and 4.7% respectively, Delta reports. This compares to an average effective price per square foot in the metro area of 0.9% in the 12-month period ending March 2017 [see chart below].
The Central DC, Arlington/Alexandria, and Loudoun/Prince William submarkets saw negative price growth over the year.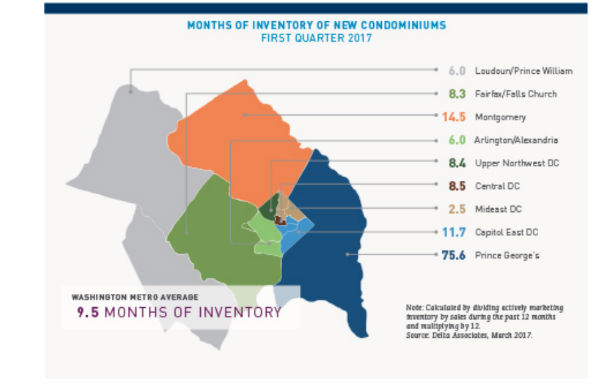 Save
Save
Save
Save
Save
Save
Save
Save
Save
Save
Save