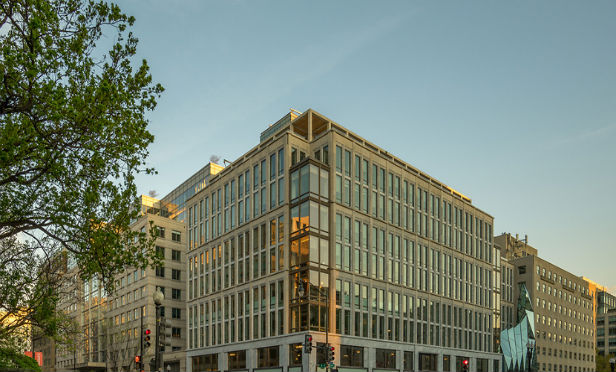 WASHINGTON, DC–The Norwegian government's global pension fund, called Norges Bank Investment Management, is among the richest in the world and its real estate mandate — with its penchant for gateway markets and core, trophy office buildings — is tailor-made for the District. Alas, though, the fund has only invested in a handful of properties here, most lately its acquisition, with MetLife in a JV, of Constitution Square Three and Four, for $422 million last September.
Now a source tells us that Norges is partnering with the Toronto-based Oxford Properties to buy 900 16th St., NW for $160 million, or $1,250 per square foot.
The seller of the 135,000-square foot building is a JV between JBG Cos. and ICG Properties in Bethesda, Md., which developed the property. Last year its anchor tenant law, firm Miller & Chevalier Chartered, moved in to occupy 87,000 square feet.
Requests for comment GlobeSt.com made to JBG, Norges, and Oxford Properties were not returned in time for publication.
A Strong US Presence
Norway's fund has had a strong presence in the US commercial real estate markets ever since its mandate expanded to invest in real estate outside of Norway in 2012. Indeed, its first foreign CRE investment was in the US with a 49.9% interest acquisition in five commercial office properties — 1101 Pennsylvania Ave. and 1300 I St. in Washington, DC; 33 Arch St. in Boston; and 470 Park Ave. S. and 475 Fifth Ave. in Manhattan. The value of that first acquisition was $1.2 billion.
Over the years Norges picked up other DC assets including Republic Square, a 385,598-square foot office at 25 Massachusetts Ave., which it acquired for $307 million, or $796 per square foot and Capitol Hill's Hall of States, bought for $165 million, or $271 per square foot. It also acquired The PNC Financial Services Group's trophy office building located at 800 17th St. for $392 million, or $1,075 per square foot.
By the end of 2015, Norges' investments in the US accounted for 48.9% of its unlisted real estate portfolio and returned 12.7%, according to its annual report published last year.
Its greatest exposure was to New York, which accounted for 58.1% of the total US office and retail portfolio for that year, while office and retail properties in the US made up 35% of the overall portfolio and returned 13.5%.
Its office investments were in the four cities of New York, Boston, Washington, DC and San Francisco. Unfortunately Norges doesn't get more granular than that other than to disconcertingly note in its 2015 report that Washington DC "was one of the weaker markets, with largely unchanged rents and above-average vacancy."
A Focus On Europe
Last year Norges concentrated most of its foreign CRE allocation in Europe, with the acquisition of the Vendôme Saint-Honoré property in Paris making up 47% of its investments in 2016, and two investments on Oxford Street in London adding up to another 20%. Despite that, by the end of the year the fund's unlisted real estate investments were still evenly split between Europe and the US.
"We continue to invest in high-quality assets in a limited number of major cities", says Karsten Kallevig, CEO of Norges Bank Real Estate Management.
Save
Save
Save
Save
Save
Save
Save