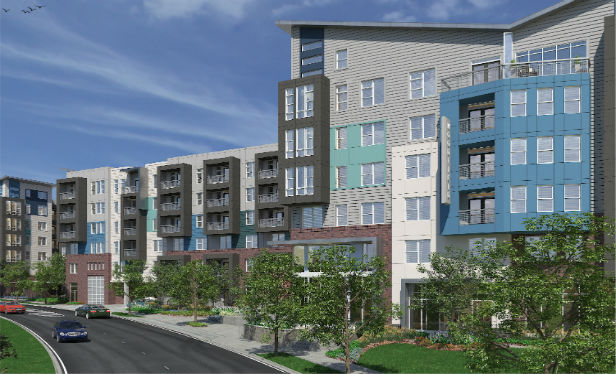 BETHESDA, MD–When the locally-based Phillips Realty Capital set about to secure joint venture equity investment for the acquisition and development of an apartment community in King of Prussia, PA, it was not expecting a virtual fisticuffs among the potential lenders. But that is what it got.
"It was a fist fight between short and long term equity and short and long term debt for this deal," Adam Bieber, managing director at Phillips Realty Capital tells GlobeSt.com.
Ultimately it took Phillips about 90 days to put together a package and identify and structure the appropriate partner, which ended up being a hedge fund, Bieber says.
This particular hedge fund, however, does not include vertical development in its wheelhouse. However it liked the strength of the submarket and the experience of the developer, Woodfield Investments, and so went on to win the deal and kick in a $31.3 million JV equity slug for the acquisition and development of Woodfield Valley Forge.
The luxury apartment 320-unit complex is located in a high-growth Philadelphia suburb — the Village at Valley Forge development, a 122 acre, mixed-use project with its own town center, called the King of Prussia Town Center. JBG Cos. was the developer and it was acquired by a CBRE Global Investors fund in May, when it was reported to be nearly 90% leased.
"New Names But Not New Players"
It is little secret that institutional investors of all types and country of origin compete for deals, especially offices and apartments in gateway and suburban markets. Now surplus capital is finding its way to middle-market deals, even in the construction stage. While some of this may be from large capital providers frustrated by lack of opportunities in gateway markets, there is a good bit of new capital entering the system and targeting this space, Bieber says.
For the Woodfield Valley Forge deal, "we received interest from groups that ranged from domestic hedge funds to long-term Israeli, Canadian and Asian investors."
There was also interest from investors that are only interested in deals sized in the range of $5 million to $40 million in equity, he says.
Many of these are groups that have emerged through newly-formed family offices, he says, run by former old hands at Fortress or Carlyle. "They are new names but not new players and because they don't have a legacy portfolio they can still be aggressive."
Save