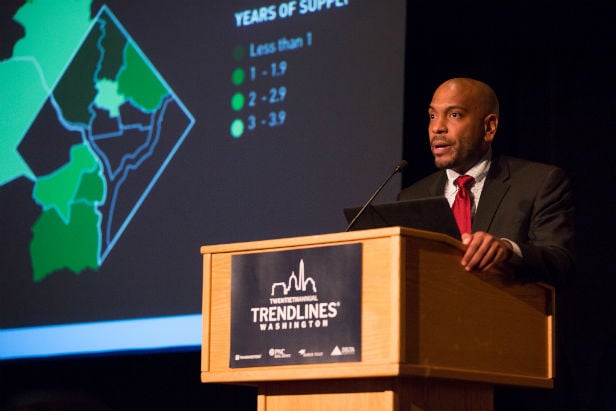 WASHINGTON, DC–Transwestern held its annual TrendLines conference last night in the Ronald Reagan International Trade Center debuting its MegaTrends report and announcing its TrendSetters for the year — EDENS CEO Jodie W. McLean and Jair Lynch Real Estate Partners President and CEO Jair Lynch. Speakers included Sage Policy Group CEO Anirban Basu, Delta Associates President William Rich, and Elizabeth Norton, Director of Research for Transwestern's Mid-Atlantic region.
The six MegaTrends that Transwestern sees for the area over the next year are:
An Office Amenity War
The office amenities war will become increasingly competitive in the Washington, DC metro in 2018, particularly among second-generation Class A office buildings. "We expect buildings with above-average amenities and design to be the most successful," Norton said. However renovating to this level of quality may not lead to the robust rent and occupancy gains for which landlords might hope. "In analyzing renovated buildings, we found that any gain in rent, averaging 7%, was typically offset by the cost of renovation," Norton said. "Success was gained more so in occupancy, as owners experienced a faster lease-up after renovating."
US homeownership Will Rally
After years of agonizingly slow recovery, the US housing market is finally regaining a measure of normalcy, the report said.
Cap Rates Continue To Fall
With yields on government bonds so low, many investors continue to deploy capital into commercial real estate associated with ultra-low capitalization rates. In short, investors have not been exiting the market even as capitalization rates have fallen, helping to further cement gains in property values. The question is, the report concludes, whether this cycle of appreciation has gone too far.
Elevated Apartment Absorption Will Continue
For nearly five years, the Washington metro has been absorbing new apartment product in greater amounts than the long-term average of 7,000 units per year, however a recent study by the Stephen S. Fuller Institute at George Mason University suggests there is a net migration of younger people leaving the Washington metro. Transwestern doesn't believe this will have an impact on absorption. "While it's been in the news lately that there's a net migration of millennials leaving Washington for more affordable cities with better job prospects, it doesn't appear that those who rent Class A apartments have packed their bags yet for Austin or Nashville," said Rich.
Boutique Condo Development Could Reverse
As financing for larger deals dried up, smaller, boutique projects prevailed in condo development, contributing to the drop in sales activity. This trend could reverse in 2018, as larger-sized projects are slated to start construction. Condo sales in 2018 should be higher than they were in 2017, but a significant increase in the share of condo sales compared to apartment absorption is not anticipated.
Flex/Industrial Will See Rent Spikes
The tight flex/industrial market condition will lead to rent spikes in select submarkets during the next two years, particularly for close-to-the-core sites. These market conditions will continue for some time as online retail spending shows no sign of slowing down.
Save
Save
Save
Save
Save
Save
Save
Save
Save
Save