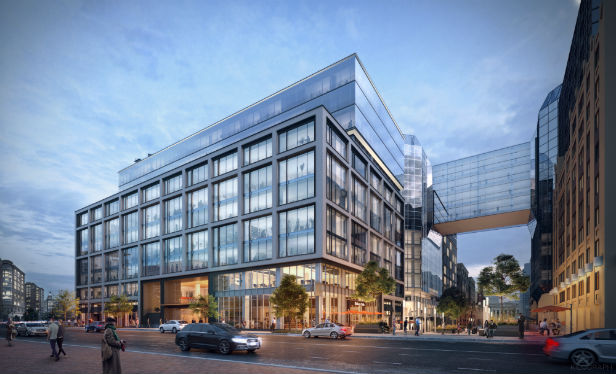 Save
WASHINGTON, DC–Law firm Baker Botts is taking 103,000-square feet in the Meridian Group's Anthem Row in the East End. Under the 17-year lease the law firm will be housing approximately 150 lawyers in the top four floors of 700 K St., NW, beginning in March 2020.
The law firm looked at many premium real estate options in the Washington market, John Taladay, partner-in-charge of Baker Botts' Washington, DC office said in a prepared statement. Its criteria included a space that would best facilitate a collaborative working environment, he said. COO Nick Peacock said that the lease was "very beneficial."
The Baker Botts lease illustrates that the East End still holds appeal — and space — for large-sized law firms. Law firms spent the early 2000s moving to the East End; now the submarket is fully built out, not only with office but also multifamily and retail properties. Thus large law firms relocation patterns shifted west to the CBD. According to JLL from 2010 to 2017, 11 of the 13 law firms that signed leases larger than 50,000 square feet to relocate to a new submarket moved from the East End to the CBD. The remaining two firms relocating from the East End moved to Capitol Hill and The Wharf.
Baker Botts' office space will include a 6,000-square-foot private outdoor terrace on the 9th floor that will overlook Apple's future flagship store at the Carnegie Library in Mount Vernon Square. Anthem Row is a four-building complex formerly known as Techworld Plaza. The Meridian Group is currently renovating the 12-story building at 800 K St.: the original building had a large floor plate with two cores and one main lobby accessible from the 8th Street Plaza. When it delivers, the property will function as two office buildings with separate identities and main lobbies. The buildings will also have separate addresses – 700 K St. and 800 K St.
The building at 700 K will have 246,717 square feet of office space with floors ranging from 22,508 to 28,993 square feet. The building at 800 K — called the Octagon — will have 113,457 square feet of boutique space with floors ranging from 11,270 to 14,211 square feet. There will also be three levels of retail space totaling nearly 80,000 square feet.
JLL's Evan Behr and Doug Mueller are representing Meridian for the building's office leasing. CBRE's Randy Harrell and Lara Nealon are representing Baker Botts.
In December 2017, Equinox announced it will open a full-service health club at the project, leasing 33,817 square feet. Another tenant that has signed on is Truluck's Seafood, Steak & Crab House, which plans to open a fine-dining restaurant at Anthem Row.
Save
Save
Save
Save