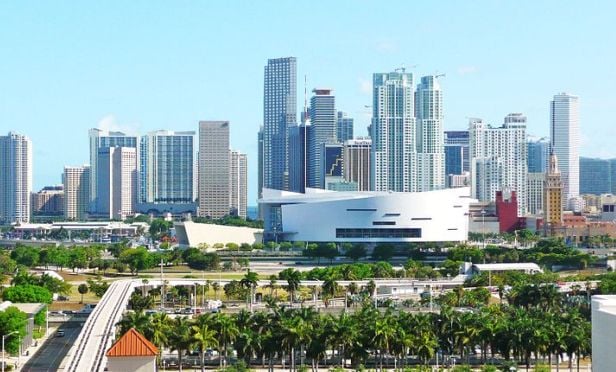 MIAMI—Extended stay brands are entering more touristy donations than in years past. That pits them against Airbnb, an online marketplace for people to list, discover and book accommodations are threatening to disrupt the hotel industry.
Residence Inn Miami Beach South Beach is opening in Sunset Harbour, one of the hottest neighborhoods South Beach because it's more laid back than the area between Washington Ave and Ocean Drive. Guests there are within walking distance to local favorites like Fresh Market, Jugofresh, two Pubbelly restaurants.
Residence Inn also opened up a new location in Surfside not long ago. Traditionally, hotels were more often near corporate headquarters, office parks and suburban areas. Could this be a strategy to compete with the Aribnbs of the world, whose guests are looking for the same kind of amenities as longer term business travelers but are actually traveling for leisure?
GlobeSt.com caught up with Ronny Finvarb, principal of Finvarb Group, developer of the Residence Inn Miami Beach South Beach, to get his thoughts on these trends in our exclusive interview. For more insights, read my recent column: How Technology Is Changing the Hotel Scene.
GlobeSt.com: How are extended stay hotels competing with Airbnb options?
Finvarb: Most travelers still prefer to stay in an extended stay hotel over AirBnb due to many factors, including: consistency in quality, security, reliability, vibrant lobbies and amenity areas with a sense of community. With a branded hotel there are in compliance.
With AirBnb, you do not have to adhere to the same requirements and the traveler is trusting that a stranger will provide them with a safe environment. Sharing lodging with a stranger is definitely not for everyone. With extended stay hotels you have the best of both worlds; a large suite and kitchen with home-like accommodations, while still maintaining a more luxurious side of hotels whose trained and experienced team members will cater to your needs and provide you with an enjoyable guest experience.
GlobeSt.com: Why are extended stay hotels entering more touristy destinations?
Finvarb: Travelers love the large spacious suites, kitchens and amenities that extended stay hotels offer in any market. If you are in a tourist or leisure market, such as South Beach, you will draw transient guests and provide them with greater space and flexibility if they are traveling with a larger group or family.
Leisure travelers are also looking for more experiential vacations as opposed to spending an entire trip in the confines of a huge resort. Therefore, the amenities and price point of an extended stay property are perfect. If the guest is in town on business or pleasure for a longer period than usual, our suites and amenities will accommodate their extended stay needs, as well.
GlobeSt.com: Why are extended stay hotels looking at alternative locations to party-centric areas like Ocean Drive?
Finvarb: Whether you're in town for business or pleasure, a good night's rest is a top priority for our guests. The locations of our hotels are close enough to the action and very walkable, yet far enough away from the noise and distractions that may compromise the stay of our guests. This is true for our brand new South Beach Residence Inn and other hotels in our portfolio.