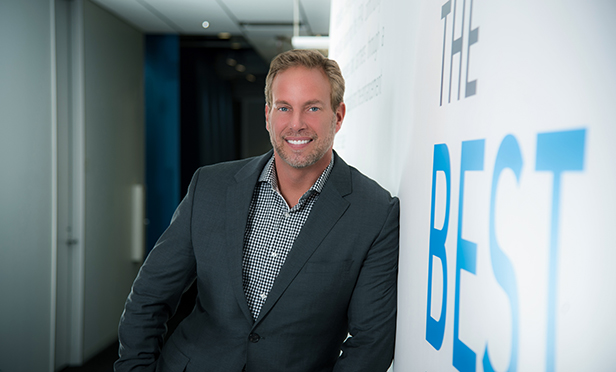 OAK BROOK, IL—Over the past few years, GlobeSt.com has provided exclusive coverage of the progress retail REIT RPAI has been making on its 10-year strategic plan. Along the way, we recorded the cutback in that timeframe—by more than half—as the REIT aggressively pursued its goals. Good thing, says Steven P. Grimes, RPAI's president and CEO. As he explains in this interview, the market might not allow such success today.
GlobeSt.com: You've got a major milestone approaching. Catch us up on the coming completion of the strategic plan.
Steven P. Grimes: We became public in April of 2012, and in 2013 we announced what was then a 10-year plan to recycle out of 90-plus markets to roughly 10, while remaining the same size—three to five million square feet per market. We made great progress, and by September of 2016, we had reduced the portfolio down to 50 markets and expected the plan to be complete by the end of '18. We stated one goal was to sell $1.5 billion of remaining assets and acquire $850 million over the next two years.
But at the beginning of this year, we began to see some risk in the market. As a result, we accelerated as much of the dispositions as we could. In Q3 of this year, we announced that we would roughly be complete by the end of February 2018. Between now and then, we have approximately $320 million to close of the remaining $1.1 billion in asset sales. That puts us once again ahead of our own expectations.
GlobeSt.com: Let's talk about those risks and how, nevertheless, RPAI has said that 2017 was a watershed year for tenancy and driving rents.
Grimes: This year was a fairly sizable bankruptcy year for retail. And there's a lingering fear of department store bankruptcies that are imminent. That's not a matter of if, but when. So retail has been under pressure and will likely be next year as well. That said, when you look at who actually declared or closed doors, RPAI was impacted in a way that would actually improve the credit profile of our tenancy. We expect to be impacted among the least of our peers because we have no direct or indirect exposure to the department stores that have yet to declare bankruptcy or announce additional store closures.
GlobeSt.com: Can you categorize your tenancy—not so much by product type but rather by business model? Is there any such thing as a sure bet today—beyond Amazon?
Grimes: There's been a lot of discussion over the past few years about omni-channel platforms and how the internet was threatening bricks and mortar. Amazon purchased Whole Foods as a distribution hub for its Fresh business because they realized they can't do it from their existing warehouses. That was just one validation of how brick and mortar and online work hand-in-hand.
It's really about experience, service, catering to the consumer and knowing who that consumer is. For instance, both baby boomers and millennials are into health and wellness. The boomers have more discretionary spend but the millennials will outpace their growth and ability to spend going forward.
So then the question becomes what will they spend it on. The retailers that are succeeding are those that are tapping into this younger group, creating that experience and that loyalty through an all-channel concept. That's why online retailers, the Amazons and Warby Parkers to name a few, are now entering into brick and mortar.
GlobeSt.com: So, translate that into your tenancy.
Grimes: We don't have one tenant that makes up more than 3% of our annualized base rent. And our top 10 tenants are strong in their ability to handle both brick and mortar and online. The other piece is that, over the past three to five years, we've migrated toward mixed-use and lifestyle assets. We've removed ourselves from some of the more commodity-based power centers with low-growth retailers who haven't invested in their omni-channel platforms.
Our ratio of anchor to inline stores was probably 32 percent inline at the announcement of our plan. Today, it's closer to 50 percent, so we're catering to smaller, specialty and experiential retailers that merchandise well with other stores in the center—such as fitness clubs and health and beauty. We've migrated our portfolio to where the tenancy is going. We're not only increasing traffic, but we're also increasing dwell time in our centers, which generally translates into more sales.
GlobeSt.com: We've talked about bankruptcies. Shane [Garrison, RPAI's EVP, COO and CIO] has stated that market conditions would make it hard for RPAI to achieve today what it accomplished in the past four and a half years. Expand on this, please.
Grimes: Starting in the beginning of 2017, with those bankruptcies and the overhang of department stores that had yet to name closures and bankruptcies, there's been a big, black cloud over retail and concerns of how much space might be coming online. We saw some relief of that pressure at the midpoint of the year from buyers, but now it's getting a little tighter in terms of expectations from an underwriting perspective. People in the transaction environment are positioning themselves for excess vacancies that might be increasing substantially. Couple that with the fear of cap-rate expansion, and you have a very skittish buyer pool. So, we feel we did right by selling our riskier assets early on in the plan and leaving some of the better stores and centers for later. It put us in a great position for 2018.
GlobeSt.com: Speaking of which, once the cleanup is done on the strategic plan, what's next for RPAI?
Grimes: We're working on what we're calling RPAI Strategy 2.0. Essentially, it's a focus on the organic growth opportunities within the portfolio. This includes a significant amount of redevelopment, going vertical with assets and creating more of that mixed-use environment with a residential component in our centers. By mid 2018, we'll be capitalizing fully on what we accomplished in RPAI 1.0 and delivering a compelling vision for RPAI 2.0 to the marketplace. It's exciting times here at RPAI.