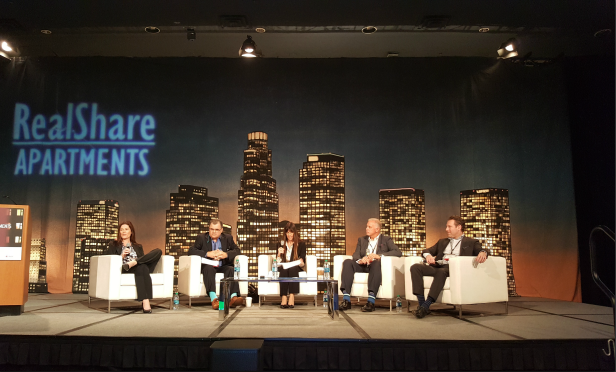 "There is going to be a pause at some point in time, and what we want to do is queue up the land for the next cycle," Jim Andersen, SVP of Trammell Crow Co., said on the Growing Top Metros: Geographical Opportunities panel at RealShare Los Angeles. The panel of development and investment players—which included panel moderator Laurie Lustig-Bower, EVP at CBRE; Scott R. McClave, senior principal of transactions and finance at The Bascom Group; Dylan Simon, SVP at Colliers International; and Natalie Cariola, VP of Sales at Zumper—discussed where they are looking for opportunities in this market.
Simon agreed that he is seeing more "next-cycle" activity, adding "people are starting to look five-years out." High land prices are driving the next-cycle sentiment, and more and more developers are dropping out of bidding rounds. "Cap rate are getting skinnier and some developers are dropping out as you get to the best and final round," added Simon. High construction prices are also an issue. "There is a shortage of labor in every market, and I am very concerned about having enough people to build all of the projects that are on the books," explained Andersen. The shortage is also going to be exacerbated by the natural disasters happening around the country, which have increased the need for quality workers.
When looking for opportunities today, transportation was the biggest draw. Andersen said that transportation "unlocks cities" and "creates a wider audience." Andersen is a major advocate for transit-oriented development, and it is driving the company's pipeline. On the panel, he used the example of the Downtown Phoenix market. At one time, a ballpark was planned in Downtown Phoenix, but the project was moved to the suburbs creating available land in the center of the market. It became a prime transit-oriented development site. "The light rail combined with jobs has made Downtown Phoenix a thing," he said.
Panelists named Phoenix and Long Island City as well as Las Vegas as other markets that have seen rent growth and demand. The Phoenix market is one of the top five rental markets in the country, and the demand continues to grow; however, high prices are driving growth in other markets that are located outside of major metros. "We are seeing densification [in some urban markets], but prices are also pushing people back out," McClave says. "Some people don't want to raise kids in a high-rise, but they can't buy a home." This is fueling growth in markets like Las Vegas and Long Island City. These are cities that meet three major criteria for millennials: affordability, security and community," said Cariola. "Long island city is one of the key growth markets," she added. "It is 15 minutes to get to Wall Street, and rents are lower than in Manhattan."
Still, in major metro markets, renters are willing to pay a quality property in a good area with walkability or access to transit. "The family budget doesn't change, so people are reallocating their dollars," said Andersen. "Being walkable has gotten renters comfortable paying a larger portion of their income on rent." This is why Andersen's firm is focusing around transit. In California, it currently has four projects along the Metro Red line. "Transportation is also the future of what we do," he added. Attracting renters with high prices can be difficult, so it is important to cater to the needs of today's renters. Simon added, "We are trying to have developers look at these locations and understand what the renters by choice can afford."