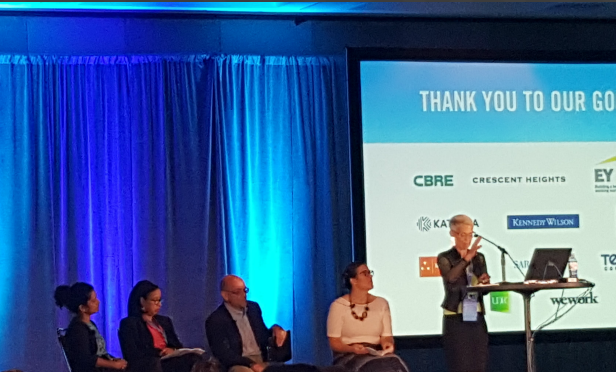 "Our parents did not grow up with this problem. Homelessness hasn't been this bad since the great depression," Molly Turner of Haas Business and Public Policy Group at Berkeley said on the Conversations About Homelessness panel discussion at the Urban Land Institutes Fall Meeting. The conversation was led by moderator Carol Coletta of The Kresge Foundation, and included panelists George Scarola of the City of Seattle's Office of the Mayor, Dhakshike Wickrema of Los Angeles County and Pam Wideman of the City of Charlotte, NC. The good news, said Tuner, is that we have had this severe homeless problem before and we have solved it.
Turner identified several reasons that have contributed to the rise in the homeless population. They include economic dislocation, shrinking social safety nets, failed housing policy, structural racism, mass incarceration and family instability. Wickrema added that funding cuts over the last several decades at both the federal and local level has significantly contributed to the problem. An anti-development movement began in the 1970s, leading to an end to federal funding for homeless housing in the mid-1980s and eventually the shuttering of local programs, like redevelopment agencies in California.
The anti-density sentiment is an important factor, because it makes starting these programs difficult in cities. "It is a financing issue on one hand and a neighborhood issue on another side. Because of these movements, you have an opposition to building density, but you have defacto density," she said, because people are moving to these cities. In Los Angeles, she is pushing for 1,000 units to be built each year. While that is difficult, she said that it becomes easier once you can get the first project built. Scarola agreed, "We are finding the same thing. As soon as you have success in one area, it is easier to do it in other areas. Success breeds success."
Wideman told an example in Charlotte, where they built a permanent supportive housing complex in our city. It received some community pushback, until the city was able to show that it saved taxpayers $2.4 million. "Then the community led the charge to get that done."
There are different types of housing options available to help the homeless community. Scarola is advocating for 24-7 shelters where the homeless can stay for extended periods of time and leave their things. "It is not that much more expensive—an overnight shelter is expensive in the long run—and it becomes a vital part of people's lives," he said. Turner mentioned modular housing concepts, and Wideman said that they are looking at prefab options as well as converting abandoned buildings into homeless housing. "We are going to need to build more housing at every level," said Turner.
In the end, each of the panelists agreed that education was the key to combating the homeless issue, as well as community engagement.