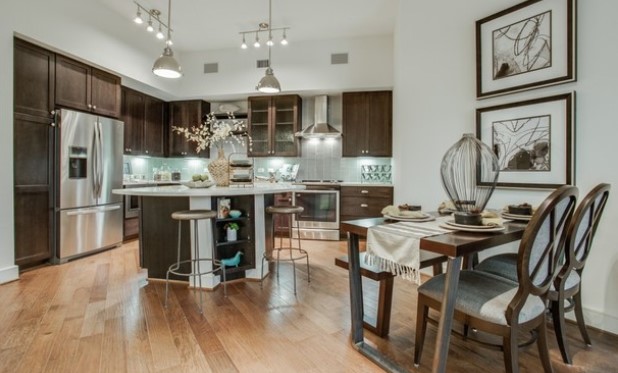 DALLAS—Multifamily development in Dallas is on the rise, literally, with an increasing number of new apartment high-rises planned and under construction, says a report by CBRE. The shift from suburban sprawl to downtown living is making its way into the region, as evidenced by the growing downtown development.
More than 4,600 multifamily units are under construction in this popular area of Big D—29% of all apartment construction in town. Moreover, the development pipeline is full of high-rises with 65% of the Uptown/Downtown construction pipeline consisting of high-rise or high-rise conversion projects.
Dallas has never been known as a high-rise market, but by 2019, Dallas will boast a much different skyline. Prime multi-family projects such as the Brady, Jordan Uptown and Gables McKinney Avenue are fetching sky high rents as well, averaging around $3.00 per square foot.
Robert Kramp, director of research and analysis, CBRE tells GlobeSt.com: "The demographic cohorts in the driver's seat are swelling ranks of millennial renters and the oncoming senior tsunami (older people selling their homes and renting apartments). Developers are giving both what they want where they want it: inner city living options without the hassle of ownership. This isn't necessarily a switch, per se, but a resurgence in urban growth that is also happening at the same time there is greater public/private reinvestment into CBDs."
Urban residents are also increasingly focused on live/work/play environments. This new crop of multifamily developments, particularly in Victory Park, has influenced investments in street and sidewalk improvements along with street-level retail and mixed-use projects. The goal is to foster a more walkable environment, which is one of the most desired amenities of urban living.
Kramp continues: "Downtown and Uptown Dallas have changed dramatically over the last 10 years, with new developments like Klyde Warren Park, the Omni Hotel and Convention Center, AT&T Performing Arts Center and the Perot Museum of Nature and Science. Uptown Dallas has become increasingly walkable and in turn, is welcoming a great deal of new upscale infill retail, restaurants and bars to cater to the growing rental scene in the urban core of Dallas. In Downtown Dallas, there are many opportunities to further develop retail and entertainment options as the multifamily market gains momentum. Still, the suburban expansion is ongoing and is not going anywhere any time fast, especially given corporate relocations and office construction activity, like in North Dallas."