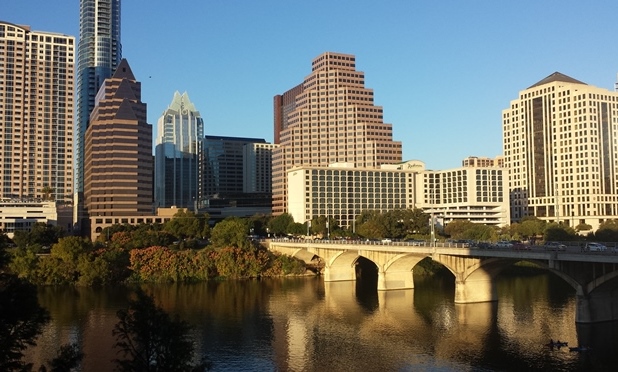 AUSTIN, TX—On the heels of news that the Austin area's population officially passed the 2 million mark, the office market is also reaching record highs for occupancy and rental rates. According to new figures from the research team with Cushman & Wakefield/Oxford Commercial (CWOC), the Austin office market's vacancy rate was 8.5% at the end of the first quarter, meaning the average of all office space was 91.5% occupied. Meanwhile, the overall asking rental rate hit an all-time historic high of $33.52 per square foot–which translates to a 6.2% increase from this time last year, when the rate was $31.55. The current rental rate is the highest ever recorded by CWOC since it started tracking statistics in the early 1990s.
Those rates bottomed out in late 2010, and have steadily risen since. As is standard, class-A space in the CBD, or central business district, posts the strongest figures. There, class-A space was just 3.9% vacant, with asking rates reaching $49.07 per square foot. That compares with a 6.2% vacancy rate and rental rates of $47.47at the end of the first quarter in 2015. That means vacancy decreased by 37.7% and rates increased by 3.8% during the past year.
"Vacancy rates have continued to decline, especially in the central business district. This increase in demand for space can be attributed to the exceptional draw downtown has on local and national companies to help attract and maintain top talent," said Brian Butterfield, senior vice president for CWOC. "Existing downtown tenants are also continuing to add to their current office footprints as their businesses reap the benefits of a strengthening economy. If these patterns persist and current supply remains limited, we can expect to see vacancy rates remain low."
In terms of supply, 565,438 square feet of new office space was delivered in the first quarter, the majority of which came online in the far northwest submarket. Another 1.6 million square feet is under construction. The market has consistently been absorbing the new space, with 430,798 being absorbed this quarter–along with the 2.2 million square feet that was gobbled up in 2015.
The office market stats reflect what the US Census Bureau just confirmed: the Austin metro area is the fastest-growing metropolitan area with a population in excess of 1 million for the fifth year in a row. Additionally, the Bureau noted the metro area is officially home to more than 2 million people.
Greg Johnston, partner with CWOC, tells GlobeSt.com: "Beyond hitting the 2 million mark, Austin's population growth shows no sign of slowing down. Projections have the area hitting 2.3 million in just four years. People want to be here–and now, so do more and more investors. They're responding to the healthy appetite people have for wanting to live and work in Austin."