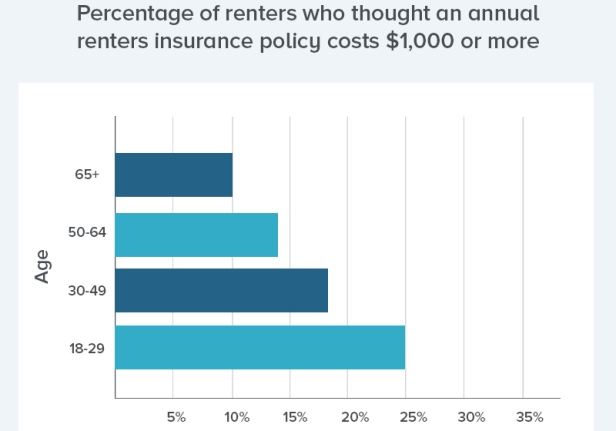 AUSTIN, TX—A new survey released by insuranceQuotes finds that millennials are most likely to rent homes, but very few are covered by renter's insurance. And while coverage is not expensive, not having it could cause a huge financial hardship.
The majority, 66%, of 18- to 29-year-olds rent their homes, compared to just 37% of consumers overall. However, less than one-third of millennial renters have renter's insurance, according to the survey by insuranceQuotes, in partnership with Princeton Survey Research Associates International.
As part of the survey, they were asked why they don't have a renter's policy, to which 59% of renters in the 18 to 29 age group responded that cost isn't the primary reason. Instead, they believe it's unnecessary because their properties are secure (61%) or they don't own enough personal belongings to insure (43%). Surprisingly, 41% said they're avoiding renter's insurance because they don't understand the product. Also in the report, the percentage of renters who don't have insurance because they don't know where to get it increased from 20% in 2015 to 26% this year.
"A big takeaway from the survey is that many consumers underestimate the benefits of renter's insurance and overestimate its cost. The average annual premium is $188; however, 25% of 18- to 29-year-old respondents believe they'd have to pay $1,000 or more. We need to educate a new generation of renters who don't fully understand its benefits because it's an affordable financial safety net that every renter should have," says Laura Adams, senior insurance analyst for insuranceQuotes.
College graduates are more likely to have renter's insurance compared to high school graduates or those with a lesser education–64% to 24% respectively. Indeed, it is a matter of educating these renters of the value of this type of insurance.
Adams tells GlobeSt.com: "It is an education gap for these renters. Other than car insurance, millennials have not had to purchase other types of insurance and are inexperienced about it. Insurance companies could discuss renters insurance while selling car insurance."
In addition, 35% of respondents mistakenly said a renter's policy does not cover personal property damaged in a natural disaster or property stolen from you outside of a rental home (60%).
Adams tells GlobeSt.com: "They don't understand the breadth of coverage. If you are with your dog at a dog park and the dog bites someone, you could be sued for damages. But with renter's insurance, you have liability damage coverage. If someone slips and falls in your rental home, you have liability protection. It is a no brainer for the investment."
Austin development is abundant. What are the active markets? Who are the key players? Join us at RealShare Austin for market intelligence and the best networking in the biz.