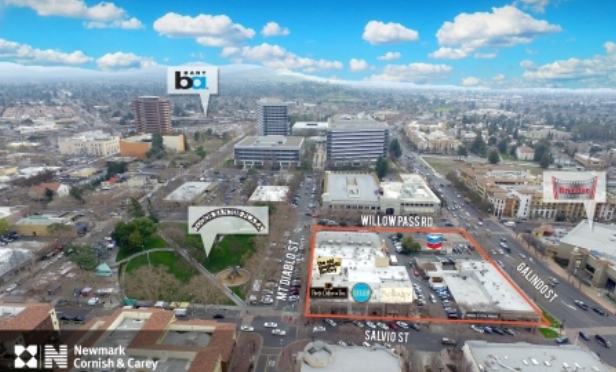 CONCORD, CA—A private family originally purchased a portion of the Todos Santos Plaza site in 1901 to open Concord's first bank and aggregated the remainder of the block over time. Today, the Shops at Todos Santos is a full city block of retail in the heart of downtown.
The private family recently sold the property to a partnership between San Francisco-based Long Market Property Partners LLC and retail development firm Paragon Commercial Group LLC, according to Newmark Cornish & Carey.
"For Long Market and Paragon, the Shops at Todos Santos represented a unique opportunity to acquire a full city block in a prime downtown growth retail market with potential for upgrades that will solidify this asset as the dominant retail destination in downtown Concord," said Justin Shapiro of Long Market Property Partners.
Forrest Gherlone, a Newmark Cornish & Carey senior managing director, handled the disposition together with Mike Zylstra, Keith Marr and Zachary LeBeouf.
"Considering the infill location and future development potential, the offering generated significant interest within the investment community," says Gherlone. "Downtown Concord is experiencing a renaissance, with multiple large multifamily developments underway and this block of truly irreplaceable real estate is located at the epicenter of this activity."
Bordered by Mt. Diablo Street, Willow Pass Road, Galindo Street and Salvio Street, the property directly fronts on Todos Santos Plaza, Concord's primary entertainment and social hub located just two blocks from the downtown Concord BART station.
"While already a thriving retail destination, the property also offers outstanding redevelopment potential considering its large site size and dense downtown pedestrian zoning, which allows for a variety of uses including mixed use with residential," Gherlone tells GlobeSt.com.
Comprised of more than 40,000 square feet of retail space on 2.15 acres, the Shops at Todos Santos is currently 100% occupied by 15 local, regional and national tenants including Peet's Coffee, The Old Spaghetti Factory, CREAM Inc., Capriotti's, Bollinger Nail Salon, Naan 'n' Curry, Half Price Books and Chevron Corporation.
"We are excited to work with the city of Concord to augment the wonderful improvements they have already made to the downtown corridor," Paragon Commercial Group's director of investments for Northern California, Patrick McGaughey, further commented. "This property has always been one of the main community gathering areas in the city and we will be investing additional capital to ensure it remains a long-term point of pride for the city and the community."