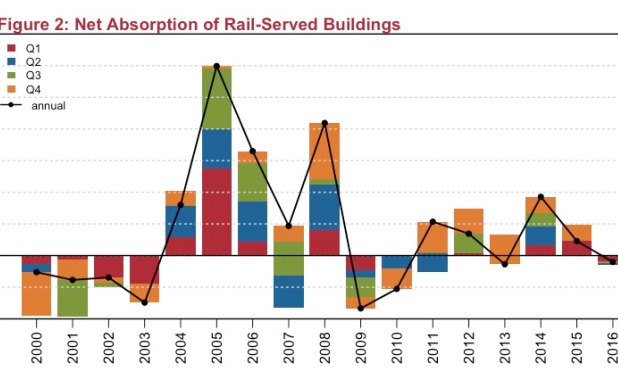 HOUSTON—Vacancy is a key metric in commercial real estate which reflects shifts in supply and demand by measuring changes in net absorption, new deliveries and existing inventory. Houston's overall industrial vacancy is 5.7%, below its historic 95% confidence interval of 6.1% to 6.8%, according to NAI Partners' latest Data Insights.
Industrial products are diverse, however. Some industrial products such as crane-served buildings have softened with the oil market, while others such as rail-served building have maintained strength.
"We have seen rail-served industrial buildings shift from high vacancies of 15% to 17% during 2002 to 2004 to a much more balanced supply and demand with vacancies fluctuating from 2% to 5% in recent years," says J. Nathaniel Holland, chief research and data scientist, NAI Partners. "The future is always hard to predict, but it is almost certain that new construction has to increase to meet the growing demand for rail-served buildings, which has been primarily concentrated in the Southeast submarket."
Specifically, from 2000 to 2003, vacancy of rail-served buildings climbed to historic highs of greater than 17%, with little to no new construction and consistently negative net absorption until 2004. Then, from 2004 to 2008, new construction, deliveries and net absorption of rail-served buildings spiked with a new emphasis on the Southeast submarket, says NAI.
Resulting from a variety of factors, including among others, the growth of the plastics industry in the southeast and expansion of the Bayport Container Terminal of the Port of Houston, this spike increased the balance between supply and demand, leading vacancies to drop and fluctuate between 6% and 9% from 2006 to 2011. Most recently, from 2011 through 2016, Houston's rail-served buildings have had ever greater tightening in supply and demand, leading vacancies to further drop and fluctuate from 2% to 4.5% in the past couple of years.
"Rail-served distribution space is in very high demand and short supply, with large national developers looking for land sites in the southeast submarket," Holden Rushing, vice president, NAI Partners, tells GlobeSt.com. "The attractive, easily developable land sites with good access have been picked over and the ones with a little more 'hair' on them are still priced too high to justify based on market rental rates. We'll have to see how the market adjusts, as land prices in the southeast are not likely to come down any time soon."
As previously reported, NAI Partners' last Data Insights pointed to a 35% gap between sublease and direct base asking rents for class-A office buildings, and the class-B market was helping to stabilize the more dramatic downturn in class-A buildings.