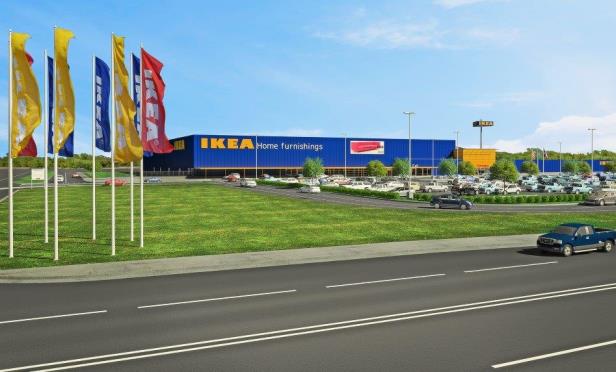 DALLAS—Retail across Texas is hot after the strongest population growth in the nation. Occupancy in both Houston and Dallas Fort Worth is at a record high due to strong demand from retail expansions. DFW has long been the entry point for national retailers to enter the Texas market and 2016 was no exception.
In fact, 18 retailers opened or expanded in DFW last year, says CBRE. Whether it's apparel, fitness or food and beverage, local concepts and national chains alike see the metro as a way to expand both brands and consumer bases, GlobeSt.com learns.
One such retailer is IKEA, which has submitted a proposal to Fort Worth for its third DFW area store and sixth in the state. Pending necessary approvals and agreements, construction of an IKEA Fort Worth could begin spring 2018, with an opening in summer 2019.
Until the Fort Worth store is completed, metroplex customers can shop at Collin County's IKEA Frisco or Grand Prairie. Two other Texas stores are located in Houston and Round Rock, and a San Antonio-area store is planned to open in summer 2019 in Live Oak.
Located approximately 10 miles north of downtown Fort Worth, the 289,000-square-foot proposed IKEA Fort Worth and its 900 parking spaces would be built on 27 acres at the southwestern corner of Interstate 35W and N. Tarrant Parkway. Store plans reflect the same unique architectural design for which IKEA stores are known worldwide. IKEA also would evaluate potential on-site power generation to complement its current US renewable energy presence at nearly 90% of its U.S. locations.
"We are thrilled with our success in North Texas since opening our first store 11 years ago, so we are excited to propose a Fort Worth store to grow our Dallas-area reach," said Lars Petersson, IKEA US president. "This proposed Fort Worth store would complement our Dallas-area presence in Frisco and soon in Grand Prairie by bringing the unique family-friendly shopping experience even closer to customers in the western part of the metroplex."
The proposed IKEA Fort Worth would bring more than 500 jobs during the construction phase and more than 250 coworkers would join the IKEA family when the proposed store opens. The proposed IKEA Fort Worth also would provide significant annual sales and property tax revenue for local governments and schools.
Drawing from its Swedish heritage and respect of nature, IKEA strives to minimize its operations' carbon emissions. IKEA evaluates locations regularly for conservation opportunities, integrates innovative materials into product design, works to maintain sustainable resources and flat-packs goods for efficient distribution. US sustainable efforts include recycling waste material; incorporating key measures into buildings with energy-efficient HVAC and lighting systems, recycled construction materials, warehouse skylights and water-conserving restrooms; and eliminating plastic bags from the check-out process, phasing-out the sale of incandescent light bulbs, facilitating recycling compact fluorescent bulbs and selling only LED bulbs. IKEA US has installed electric vehicle charging stations at 16 locations, has solar arrays at 90% of its locations and owns two US wind farms.
Other retailers flocking to DFW and investing big in the region include grocers Kroger, Whole Foods, Walmart, Sprouts and Aldi. Restaurant and grocery continued to be the most active concept type in DFW retail, accounting for more than 70% of new or expanded retailers in 2016.
The Crescent/Uptown area attracted multiple new restaurant retailers to the market last year including Shake Shack, out of New York City, opened September 1 at The Crescent; Water Grill, hailing from Los Angeles, opened in December 2016 on McKinney Avenue; and Moxie's Grill & Bar, based out of Canada, opened its first US location in December 2016 at The Crescent.
Texas retail sales and tax collections began to decline in 2014, but picked back up in 2016 and are expected to continue through 2017. Consumers in Texas spend about $41 billion annually in statewide retail, and combined with supporting demographics, continue to attract more retailers to the state, according to Robert Kramp, director of research and analysis, CBRE Texas-Oklahoma-Arkansas region.