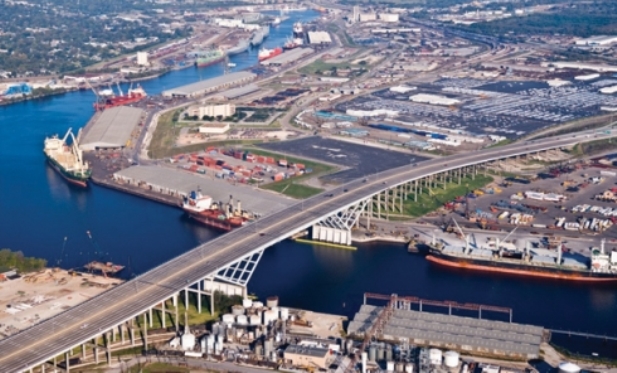 HOUSTON—Considered one of the most technological and environmentally sensitive facilities in the United States, the Bayport Container Terminal is now 10 years old. Bayport was built to handle the increase in container cargo driven by the growth in Texas.
Container shipping is clearly the dominant form of shipping goods and shippers prefer container vessels to breakbulk vessels because a large majority of breakbulk cargo is too large or unusually shaped to fit efficiently in a container. And, shippers must accumulate a sufficient amount to fill a breakbulk vessel, which can affect the timeliness of shipments, GlobeSt.com learns. Finally, a competitive global shipping industry has amplified the need for logistical efficiency to hold down costs, shifting traditional US breakbulk commodities, such as wood pulp and refrigerated goods, to container vessels, impacting deep-water breakbulk volumes from coast to coast, according to CBRE research.
Port Houston is the nation's largest port for foreign waterborne tonnage and an essential economic engine for the Houston region, the state of Texas and the nation. The port owns and operates both Bayport and Barbours Cut Container Terminals–together these two terminals are responsible for handling nearly 70% of all of the container cargo business along the Gulf Coast. The Barbours Cut Container terminal, which will celebrate its 40th anniversary of operations this summer, was the first container terminal to serve the gulf.
Bayport terminal currently has nine ship-to-shore cranes and 39 rubber-tired gantry yard cranes, averaging eight weekly vessel calls and 25,000 truck gate moves a week. When fully developed, this terminal will have a total of seven container berths with the capacity to handle 2.3 million 20-foot equivalent units in a complex which includes 376 acres of container yard and a 123-acre intermodal facility.
The terminal's sister facility, the Bayport Auto Terminal, opened for business in November 2016. Originally used for cruise operations, it is now the site of import operations readying new inbound vehicles for auto distribution. Port Houston has deepened channels adjacent to the Barbours Cut and Bayport container terminals to match the Houston Ship Channel, enabling ships with drafts up to 45 feet to call at both terminals (as well as the adjacent private facilities). The $85 million self-funded project also widened and realigned the channels to better accommodate larger ships.
The most recent economic impact study by Martin and Associates showed that the facility helps generate more than 32,000 jobs and adds approximately $1.6 billion to the Texas economy through wages and tax revenues. The terminal's environmental benefits include the preservation of 956 acres of diverse coastal habitat, 200 acres of new marshlands, 173 acres of created or enhanced wetlands and the preservation of a 128-acre buffer zone, according to the Port of Houston.
For more than 100 years, the port has owned and operated the public wharves and terminals of the Port of Houston. Overall, it supports the creation of nearly 1.175 million jobs in Texas and 2.7 million jobs nationwide, and economic activity totaling almost $265 billion in Texas–16% of Texas' total gross domestic product–and more than $617 billion in economic impact across the nation.
"We are proud of the growth of the Bayport Terminal since its opening a decade ago. Its success and positive impact on jobs and the economy are due to the leadership of our Port Commission, staff and all of our partners," said Port Houston executive director Roger Guenther. "There is an amazing future ahead of us that will bring tremendous opportunities as well as challenges that we will continue to tackle, to keep Port Houston and our busy waterway at the forefront of prosperity."