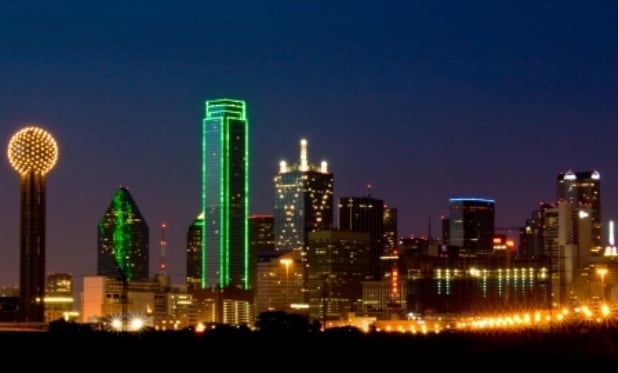 DALLAS—Like many downtowns across the country, Dallas lost momentum in the 1960s as new freeways and affordable suburban middle-class homes sucked the growth out of the central business district. Many businesses followed as office buildings rose on the suburban prairies. Before the 60s were over, the city council tried to stop the outward tide by adopting the recommendations of urban planner Vincent Ponte, who designed a system of downtown tunnels and underground retail shops linking the major buildings.
Through the years, the tunnel system grew to more than 2 miles, according to ULI. It provided a convenient lunchtime amenity for downtown office workers but was blamed for choking off life and commerce on the street above. The result? A lonely feeling within the central core, which by 6:00 p.m., was devoid of bustling people or even a single pedestrian. Then-mayor Laura Miller said it was the worst urban planning decision that Dallas has ever made.
In recent years, the downtown tunnel system has become disjointed and de-emphasized as some landlords closed off tunnel connections, breathing an extra measure of life into downtown streets and sidewalks, GlobeSt.com learns. And today, the residential redevelopment boom has erased that unpopulated feeling. The newly revitalized downtown Dallas area is the epicenter of the city. The downtown commercial office market is generally defined by two primary submarkets, the CBD and Uptown/Turtle Creek.
The downtown CBD submarket is comprised of approximately 30 million square feet of multi-tenant office space, and contains more class-A space than almost any other regional submarket at more than 20 million square feet. Class-A product represents 75% of the total inventory. The Uptown/Turtle Creek submarket consists of approximately 11 million square feet of multi-tenant office space, with 87% classified as class-A product, GlobeSt.com learns.
More than 50 companies relocated to or renewed leases downtown in the last year. Downtown is home to 24 out of 25 of the largest law firms in North Texas, 20 of the top-ranked (by revenue) public and private companies in North Texas, six out of the top 10 largest architectural firms in North Texas, seven of the 10 largest advertising and marketing firms, five of the top 25 employers, seven out of the top 10 largest commercial property managers, 12 of the top 16 largest patent law firms, and seven out of the 10 largest North Texas accounting firms, according to Downtown Dallas.
Many of downtown's districts are booming with leases, groundbreakings and openings. Last year, there were 50 new restaurants/bars open and this year, 67 new restaurants have either opened or been announced in downtown. And with all the recent retail openings, there are now more than 170 shopping establishments.