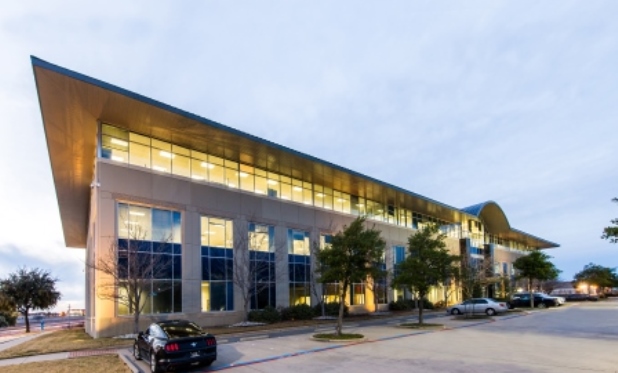 IRVING, TX—The Dallas-Fort Worth metroplex is the nation's fourth largest metro area, with a current job growth rate of 3.6%, which is the highest among the country's 12 biggest metro areas. Within the metro, Las Colinas is home to 120,000 workers.
The area's growing skilled labor pool and DFW proximity are attracting expansion-driven companies to the submarket. Large employers include Exxon Mobil, Oracle, Microsoft, General Motors, Fluor, Citigroup, Goldman Sachs and Kimberly-Clark.
One of the office complexes with prominent corporate tenants is Royal Ridge, owned and managed by Accesso Partners LLC. The four-building class-A portfolio totaling 505,948 square feet is situated on 45.6 acres at the intersection of North Belt Line Avenue and West Royal Ridge. The property is located just north of John W. Carpenter Freeway and President George Bush Turnpike, five miles from the Dallas-Fort Worth International Airport and the Las Colinas Urban Center.
"The fact is Dallas-Fort Worth continues to gain prominence and stature as a global city," Abbey Rowsey, Accesso's Dallas asset manager, tells GlobeSt.com. "Couple that with the quality of this asset, the A-plus Las Colinas location, its proximity to the airport and Royal Ridge will continue to attract top-tier tenants."
Accesso has appointed investment brokerage Eastdil Secured LLC to market the portfolio. Building floor plates range from 40,000 to 70,000 square feet and have an average of six per 1,000-square-foot parking ratio.
Royal Ridge's rent roll consists of national and international credit tenants including American Honda Finance, American Airlines, which recently leased 124,000 square feet in Royal Ridge III, and Frontier Communications which renewed its 145,000-square-foot lease for 10 years in Royal Ridge I.
The portfolio also includes an 8.8 acre site that can accommodate a 130,000-square-foot build-to-suit or speculative office building. The site is already zoned for commercial office. The property has more than six years weighted average lease term remaining, staggered lease expirations and $80 million-plus of remaining contractual revenue.