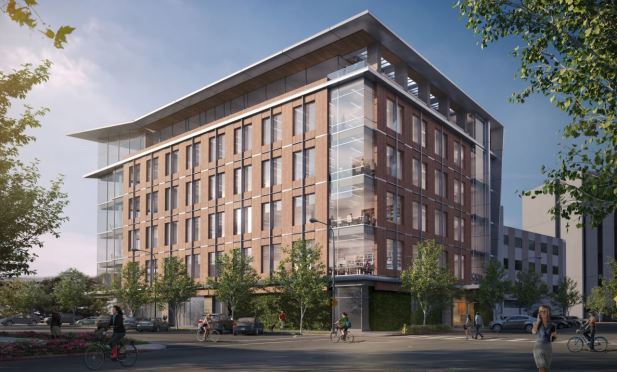 REDWOOD CITY, CA—Law firms that have been housed in traditional offices in the past are considering space that reflects clients' workplaces. Some attorneys have chosen to practice law in open, collaborative environments that look more tech than tort.
One case in point is Gunderson Dettmer Stough Villeneuve Franklin & Hachigian LLP, a business law firm that works with venture capital firms and technology companies. The growing firm has leased space at 1200 Seaport Blvd. in Redwood City since 2010.
"As we focused on our strategy for the next 5 to 10 years, we looked at the optimal work environments adopted by our clients and challenged ourselves to look at our space needs with fresh eyes; taking into account changing demographics, evolving work styles, environmental issues, efficient design and new collaboration tools," said Ivan Gaviria, one of the partners who led the search for new space.
In early 2018, it will move its Silicon Valley office to a newly constructed downtown building at 550 Allerton St. The firm will become the anchor tenant and occupy the top three floors when the construction is completed.
"We may be a law firm but we're business advisors. Our partners don't want corner offices. We work in teams and need space that facilitates interaction," says Gaviria. "Our offices at One Bush in San Francisco and in other locations gave us a chance to experiment with options. We learned what works best for our clients, professionals and staff, and we are putting these lessons to work by building a new space from the ground up. As we look ahead, we want an environment that promotes collaboration and flexibility and is built with an eye to the next 10 years, not the last 10."
The new Gunderson office is easily accessible via public transit in Redwood City's growing downtown area. The firm believes that clients and employees will all benefit from the new location and transportation options.
"Of the many factors that contributed to this decision, two trends were perhaps the most significant─ Bay Area congestion and the changing work styles of the next generation of professionals," Gaviria tells GlobeSt.com. "We believe the future is transit-oriented development─a downtown location with walkable access to amenities like retail and dining and, of course, walking distance to Caltrain were key factors for both our staff and attorneys as well as our clients. We believe Bay Area population growth and related traffic issues will make traditional office parks, accessed by the freeway, increasingly less attractive in the years ahead. Our San Francisco, New York and Boston offices have all benefited from the socializing and improved work/life balance that comes from a more urban transit-oriented setting. Within the building itself, we believe a focus on collaborative work spaces, increased use of hoteling and shared spaces better suits today's more flexible work styles than the traditional private office. Our attorneys are constantly moving between San Francisco and the Peninsula. Dropping into a shared space or hotel office and docking a laptop is an efficient solution."
Jones Lang LaSalle represented Gunderson Dettmer in structuring its lease with Premia Capital.