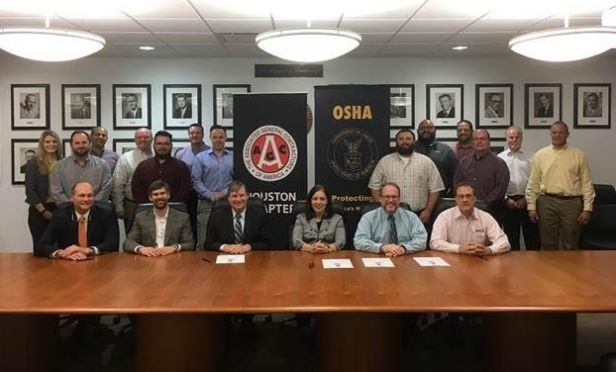 HOUSTON—Ensuring jobsites and people are safe is a top priority for all construction companies. Case in point is McCarthy Building Companies, which has a company incident rate at 76% below the national average and was recently recognized by the Associated General Contractors with the Excellence in Safety Award.
To further its commitment to safety, McCarthy's Houston division has entered into a partnership with the Occupational Safety and Health Administration. To be accepted into the OSHA strategic partnership program, McCarthy was graded on its past safety performance and willingness to keep workers safe.
The partnership provides voluntary lines of communication between McCarthy and OSHA, with OSHA providing any technical assistance needed to meet the company's safety goals. The strategic partnership program provides opportunities for OSHA to partner with employers, workers, professional or trade associations, labor organizations and other interested stakeholders. Partnerships are created by OSHA in order to eliminate serious hazards, and enhance workplace safety and health practices. Each agreement helps establish specific goals, strategies and performance measures to improve worker safety and health.
Safety and operations personnel of McCarthy Building Companies' Houston office met with representatives of OSHA to solidify the company's safety commitment. The signing ceremony was officiated by OSHA's Mark Briggs, Joan Figueroa and Jim Shelton. McCarthy's Houston division president, Jim Stevenson, and vice president of operations, Ben Johanneman, signed the agreement, along with Jerry Nevlud of Associated General Contractors/Houston.
"The OSHA Partnership is recognition of McCarthy's safety leadership in the Houston construction market," Stevenson tells GlobeSt.com. "McCarthy is committed to helping drive a culture of safety in our company and spreading that culture to all craft workers in the industry."