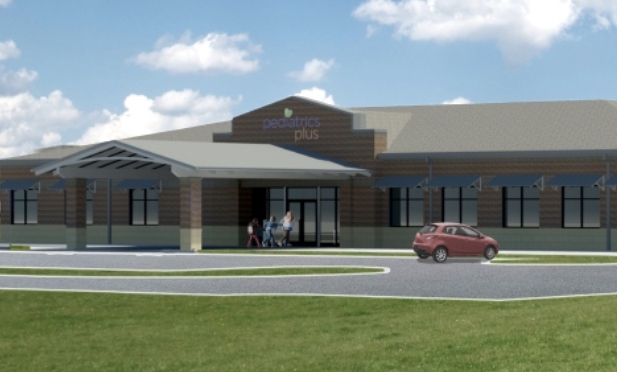 FRISCO, TX—Abuzz with backhoes, Frisco is attracting a wide range of companies that are putting down roots. In the most up and coming area just off the Dallas North Tollway, Toyota Stadium, Toyota Soccer Center and Fieldhouse USA are notable landmarks.
Pediatrics Plus, a pediatric healthcare provider based in Arkansas, purchased 4.45 acres in the center of the activity. Construction on the medical facility is imminent, with groundbreaking expected by the end of 2017.
Commercial real estate services company, Wellington Realty, facilitated the property transaction. Managing partner David Shaffer, investment analyst Kirby Jackson III and brokerage associates Caleb Jones and Tammy Shaffer represented the buyer. Colliers International senior vice president Susan GwinBurks represented the seller.
"We invested a great deal of time to find the right spot for Pediatrics Plus to establish its presence in the DFW market. The Frisco location offered a spacious amount of land, while still residing in an urban-centric community," said Shaffer. "With traffic continually moving north of Dallas, we saw this Frisco property as a prime location, positioned for success."
This is the first Pediatrics Plus location in Texas, with four additional locations in Arkansas. Founders Amy and Todd Denton established the first facility in 2002.
"Frisco is one of the fastest growing cities in the metroplex, and as the community grows, more pediatric healthcare options are necessary," said Jones. "Pediatrics Plus will be yet another addition to the expanding North Texas community."
Pediatrics Plus is a specialized pediatric healthcare provider committed to helping children succeed in all stages of life through evidence-based therapy and education, diagnostic services, specialized equipment and community investment.
"They chose Frisco because it is growing, has a lot of household formation and they saw a demand for their services," Jones tells GlobeSt.com.
Wellington Realty offers commercial estate brokerage and property management services in the four major markets in Texas: Dallas, Houston, Austin and San Antonio.