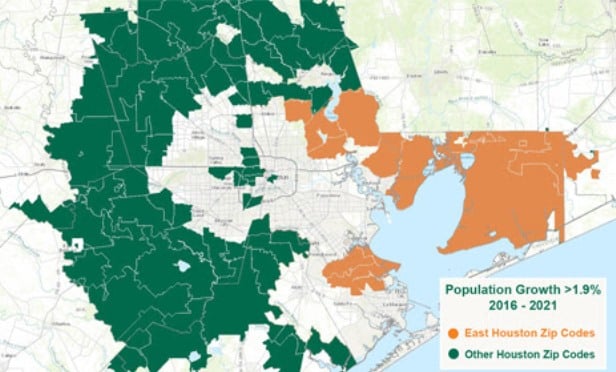 HOUSTON—The immediate area east of Houston is known for the Port of Houston, petrochemical plants, and 93 million square feet of industrial warehouse and distribution space. Now, the east is experiencing explosive growth—for example, East Downtown or "EaDo," is transitioning from primarily an industrial warehouse district to an emerging retail hot spot, despite being east of IH-69 and downtown Houston, according to a report from CBRE Research.
A clustering of recent population gains is visible in the far reaches of the Houston MSA, mirroring the newly constructed expansion of the Grand Parkway and growth within associated master-planned communities. However, a look at the eastern half of Houston shows a similar population growth rate of 2.5% in 15 zip codes throughout east, southeast and Port of Houston communities, says CBRE.
Those population gains are on par with some west Houston suburbs. According to forecasts from the Bureau of Labor Statistics, these communities will add 60,400 residents by 2021, with the strongest growth anticipated along the East Beltway near Sheldon and Summerwood, which means there is fresh opportunity for retail and residential real estate.​
Large expanses of land have attracted master-planned community developers westward to Katy, Cinco Ranch, Fairfield and most recently, the Bridgelands. While known primarily for industrial uses, East Houston offers access to the Port of Houston and Bush Intercontinental Airport, as well as a shorter commute to downtown. A healthy downstream petrochemical industry, which is predominantly clustered in East Houston, has spurred $60 billion in petrochemical development projects. This influx of capital and attention to East Houston is fundamentally transforming the way residents and developers perceive the east side.
"Houston developers have shown a shifting focus from west to east as expanding demographics economic growth caught their eye," Robert Kramp, director of research and analysis for CBRE Texas/Oklahoma tells GlobeSt.com. "There has been an unprecedented amount of downstream investment dollars funneled into East Houston throughout the last five years, and we anticipate even more commercial development in the future."
Industrial demand continues to play a prominent role in commercial investment in East Houston. Tens of thousands of acres of previously unimproved land are currently being rapidly developed and marketed with extensive infrastructure and structural investment. Aggressive expansions in rail, barge and highway service in the Southeast region are rapidly positioning the area's economy to capitalize on heavy logistics demand for both consumer products and downstream petrochemical users. The development of these mega-parks is a transformative asset to the area's economic growth, and provides a valuable revenue source for the surrounding metro.
Retailers are increasingly taking note of the expanding demographics on the east side. A new H-E-B anchored shopping center is underway in Baytown in addition to the new Kroger in Baytown, which was recently completed. Multifamily developers have also been active in East Houston during this construction cycle, adding new product to a predominantly older complex inventory. Last year, Greystar opened Ravella at Eastpoint, a 283-unit apartment complex, across IH-10 from San Jacinto Mall, which is also undergoing a large renovation project.
As Houston's population continues to grow, the east side is poised to capture an increasing share of attention from developers and business due to favorable demographics, economic development and infrastructure expansion.