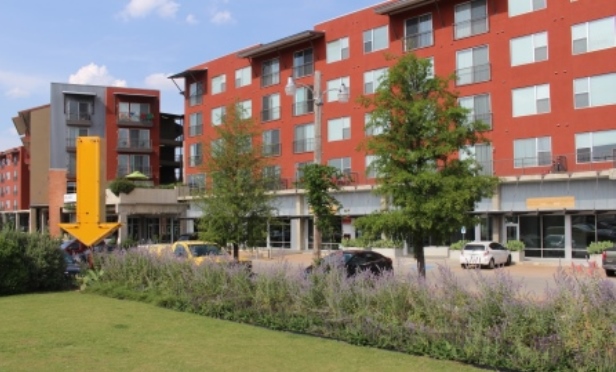 DALLAS—Sylvan | Thirty, a mixed-use development located at the intersection of Sylvan and Fort Worth Avenues, has become the first commercial development in West Dallas to earn the US Green Building Council's Leadership in Energy and Environmental Design certification. LEED recognizes buildings, homes and communities that are designed and operated for improved environmental and human health performance.
Sylvan | Thirty has achieved LEED certification for implementing measurable yet practical strategies and solutions aimed at achieving high performance in sustainable site development, water savings, energy efficiency, materials selection and indoor environmental quality. Sylvan | Thirty has been especially recognized for rehabilitating a brownfield site, incorporating decomposed granite parking and a vegetated bioswale throughout the development (to filter and reduce storm-water discharge to keep the Trinity River healthy), providing preferred parking for fuel-efficient vehicles and using low-emitting building materials to reduce indoor air contaminants that are harmful to occupants.
"Sustainability and community are the driving influences behind every decision made at Sylvan | Thirty," Brent Jackson, president of Oaxaca Interests, the Sylvan | Thirty development company, tells GlobeSt.com. "It's encouraging to receive this certification recognizing all of Sylvan | Thirty's efforts to remain environmentally and socially responsible in order to improve the quality of life for generations to come."
Early on, Sylvan | Thirty established what it calls its 5DNA—a list of five principles that embody the development. Those principles include multi-modality, sustainability, supplying local and organic food options, community outreach and a promise to keep Sylvan | Thirty's vibe simple: existing as a mini escape for when life gets hectic.
"From day one, my goal has been to create a development that celebrates the community and the environment," said Jackson. "This certification is a recognition of all the investors, residents and tenants who have come together to rally around local products, family businesses and green initiatives to make our community a better place to live."
Sylvan | Thirty houses more than 200 studios and lofts, restaurants/bars, shops, an organic grocery store, yoga studio and the first eco-friendly/fume-and-toxin-free nail salon in Dallas.