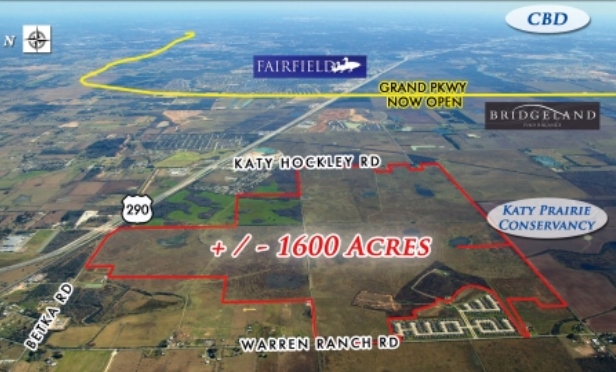 HOUSTON—In the biggest transaction in Rockspring Capital's history and one of the largest in the Houston area since the oil slump, Rockspring Capital sold a land tract to Houston master plan community developer Johnson Development Corp. for an undisclosed price. The piece is a 1,619-acre tract in Northwest Harris County located off of US 290 and Katy Hockley Road in the outskirts of Houston.
"We carefully assembled the property, purchasing a little more than 1000 acres in 2006 and fully completed the acquisitions in 2008. During our hold period, we solved many of the development and entitlement issues and were able to bring this property to market ready to develop," said Michael Ross, Rockspring Capital's vice president, asset management and entitlements. "We evaluated several offers from master plan developers in the market and were very impressed with Johnson Development's reputation and financial backing."
This tract is located in one of Houston's fastest growing areas just minutes from the recently completed Grand Parkway. The property is unique in that it has a very high potential yield with little to no mapped flood plain and nor is it significantly impacted by environmental challenges as some other properties in the market. Johnson Development has no immediate plans for development.
"Rockspring's strategy is to acquire properties before others recognize their value potential and then to make the necessary value-add entitlements, increasing value further," Rockspring Capital president and CEO Jim McAlister tells GlobeSt.com.
Since 1973, Rockspring's strategy has been to acquire opportunistic land parcels and residential lots with all cash in high growth areas, i.e., within the "Texas Triangle" of Houston, Austin, San Antonio and Dallas/Fort Worth.
"Houston's economic resiliency continues to be on full display as more land is being developed into large residential communities to house Houston's continued growing population," adds McAlister.
Johnson Development was represented in the acquisition by Dave Ramsey with NewQuest Properties while Rockspring Capital was represented by Chris Hutcheson, Matthew Herring and James Kadlick of McAlister Real Estate.