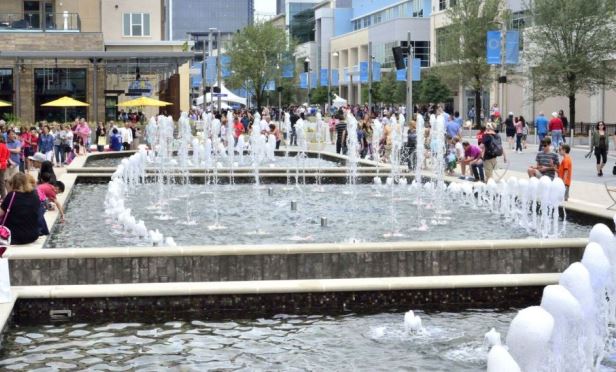 PLANO, TX—The mixed-use Legacy West development is now open to the public, located at 5905 Legacy Dr., 22 miles north of Dallas. Legacy West is one of the largest mixed-use developments in North Texas and features more than 415,000 square feet of retail and restaurant space, a 55,000 square-foot food hall, more than 1,200 luxury apartment units, two high-rise luxury living towers, a 24-story condo tower with 94 residences and 127 urban villas, a 303-room Renaissance Legacy hotel and more than 325,000 square feet of class-A office space, all within a live/work/play setting.
Retailers include West Elm, Tommy Bahama, Tesla, Fabletics and Coach. Restaurants include North Italia, Del Frisco's Double Eagle Steak House, True Food Kitchen, Earls Kitchen + Bar and Starbucks Reserve.
To enhance the visitor experience, Outside the Lines has unveiled a show fountain that will serve as the public centerpiece of the retail entertainment center. The design-build construction company specializes in creating one-of-a-kind water features, rockwork and themed environments.
"Public spaces are the new anchor tenant in retail," says J. Wickham Zimmerman, chief executive officer of Outside the Lines. "Now more than ever, retail owners recognize the importance of integrating thoughtfully designed gathering spaces, artful show fountains and central park areas to drive foot traffic and transform their centers into world-class destinations."
The entertainment show fountain, which encompasses 3,500 square feet across three separate basins, will consist of 131 nozzles to create a choreographed water show that dances in synchronized movement to 14 individually programmed songs and 398 LED lights.
"Water features such as the show fountain at Legacy West are a dynamic form of art and create a venue for social interaction and entertainment, which in turn drives foot traffic and increases length of stay, resulting in greater revenue for retail owners," Zimmerman tells GlobeSt.com. "Show fountains also provide the developer with increased value because higher rents can be charged for spaces adjacent to the fountain and areas such as patios become rentable space."
Situated in the central plaza along a main street thoroughfare, the fountain is directly adjacent to luxury apartments, restaurants and retailers in a high traffic open-air setting.
"This fountain will deliver a crowd-stopping water ballet, making Legacy West a must-visit destination for residents and visitors in this rapidly growing submarket. Our design concept creates a multisensory, dynamic, fully integrated art and entertainment experience that entices shoppers to come to the center and to stay longer," explains Zimmerman. "For every 1% increase in consumer length of stay, sales increase by 1.3%. By integrating a memorable focal point where guests can gather and socialize, we are supporting stronger retail sales, while also attracting retailers who are willing to pay a premium for space directly adjacent to this attraction."
Zimmerman points to a recent study by MIT and Path Intelligence Ltd. that found that shopping centers with interesting public spaces, programming and entertainment features had a considerable increase in average length of stay, resulting in higher revenue streams and overall sales.
"Today's best mixed-use developments feature outdoor entertainment zones that integrate seamlessly into the surrounding environment while also standing as iconic destinations of their own. This fountain does just that," adds Fehmi Karahan, the developer and mastermind behind the entire Legacy West mixed-use project.
Legacy West also boasts a streetscape with landscaped plazas and canopied patio areas, as well as a food hall with a selection of local food concepts and dining experiences. The overall development is at the epicenter of a growth and revitalization effort.
"Plano is one of the fastest-growing cities in the nation and is in the midst of rapid urbanization, making it the perfect location for Legacy West," says Karahan. "Toyota recently relocated its headquarters to the area, and a number of other Fortune 500 companies such as Boeing, JCPenney and Liberty Mutual are also located here. As the latest addition to what many are calling the 'City of the Future,' Legacy West will serve as a catalyst for future job growth in the area."