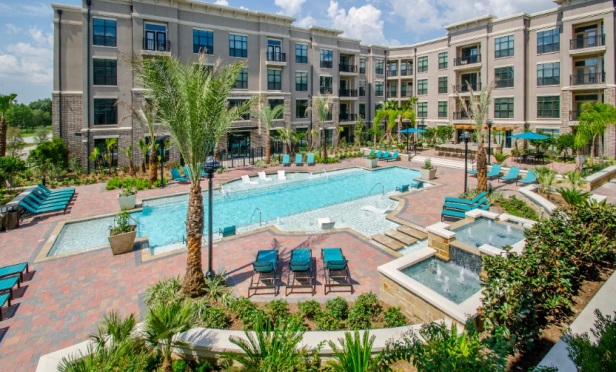 HOUSTON—An increase in demand for apartments in Houston's energy-centric areas–including the Energy Corridor–is being driven by an increase in jobs and a shrinking pipeline of new apartment construction, according to Wolff Companies. This construction slowdown has helped the market right itself. According to CBRE, 7,800 units are currently under construction with most scheduled for completion within the next two years. CBRE data shows multifamily permits dropped 83% from a record-high third quarter in 2014.
Multifamily absorption is the highest in the Energy Corridor, Katy, The Woodlands and Spring, TX according to Apartment Data Services. Thousands of units built in recent years are predicted to be absorbed this year, and nearly 11,000 new apartment units have been absorbed already in the first half of the year. For comparison, Houston had about 4,500 apartments absorbed in all of 2016, according to Bruce McClenny, president of Apartment Data Services.
According to an April report by the Bureau of Labor Statistics, there was an employment increase of 41,900 jobs or 1.4% during the prior 12 months. The April increase was Houston's eighth consecutive month of job gains. Concurring with the Apartment Data Services findings, a report by Berkadia Real Estate Advisors stated that apartment demand in the Houston metro area surged in the first quarter of the year with absorption exceeding all of 2016's leasing activity.
"We're absorbing more apartment units than we thought we would, so that's a good indicator that we're heading toward a more balanced market," said Ryan Epstein, senior managing director, investment sales, Berkadia Houston.
Berkadia, a joint venture of Berkshire Hathaway and Leucadia National Company, bills itself as the nation's largest multifamily investment bank.
"In select areas, including the Energy Corridor, there remains a strong value proposition for multifamily and mixed-use development, particularly near healthcare facilities, which are robust and stable employment centers," said Carolyn Wolff Dorros, executive vice president, Wolff Companies. "In step with the increasing level of development quality in the Energy Corridor, multifamily developers are building upscale properties with premium amenities that are attractive to an extensive range of renters."
This Energy Corridor multifamily demand includes The Heights at Park Row in Wolff Companies' Central Park. The development is located adjacent to the future site of the MD Anderson Cancer Center, currently under construction and opening in 2018.
Experts predict a landlord's market in the second half of 2019 due to pent-up demand. This market correction points to fewer rental concessions.