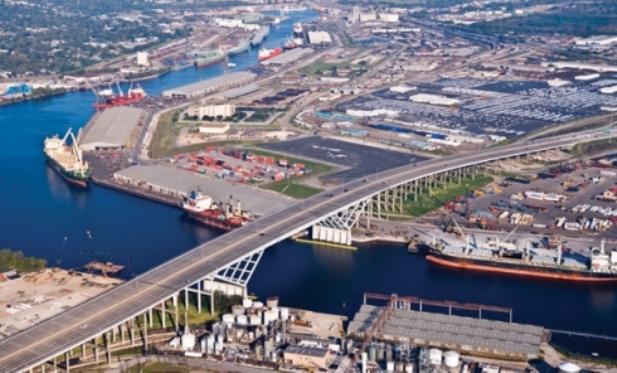 HOUSTON—Only a year after opening, the $5 billion Panama Canal expansion project is already having a profound impact on the North American shipping industry. A new report from JLL reveals that as a result, industrial real estate demand is stronger than ever. The Port, Airport and Global Infrastructure Seaport Outlook 2017 details emerging shipping trends and provides an analysis of seaport-centric industrial space in 14 North American port markets.
"One of the most notable takeaways is the increase in cargo the Gulf Coast ports have seen, especially Port Houston," John Talhelm, senior vice president, JLL industrial services group, tells GlobeSt.com. "The Houston market is seeing the advantages of infrastructure improvements made to the Port over the last few years. Thanks to Houston's diverse economy, international community and multimodal transport systems, Port Houston is positioned to continue gaining share, particularly as newly delivered petrochemical projects ramp up production."
While West Coast port markets remain naturally competitive, demand is escalating around East and Gulf Coast ports. To tackle this demand, nearly 25.4 million square feet of industrial real estate is under construction in the 14 port markets tracked in the outlook, and 65% is in East and Gulf Coast ports.
"While the West Coast still handles about half of all shipping volume, the East Coast is seeing significant growth," said Walter Kemmsies, managing director, economist and chief strategist of JLL's Port, Airport and Global Infrastructure group. "The trans-Pacific trade lane is the largest in the US by overall volume, so West Coast ports are still in high demand. But little room to build distribution centers near these ports, coupled with pressure to move cargo from the first to last mile, presents challenges for the future."
Since 2013, Mid-Atlantic and Southeastern seaports have boasted a 20% hike in volumes compared to just 5% on the West Coast. Kemmsies attributes this growth to the expanded Panama Canal, increased trade with Asia and importers progressively pursuing a four-corner strategy throughout the coasts for cost saving and risk control.
As the shipping industry continues to transform, JLL's report identifies the five major trends impacting North American ports and the surrounding real estate:
Gulf Coast ports are winning the US seaport trade wars. Thanks to the Panama Canal expansion and increased downstream demand in recent years, port volumes and industrial real estate demand are higher than ever in Gulf Coast ports. At Port Houston, for example, 20-foot equivalent unit/TEU volumes increased from 4.6% to 5.2% of total US TEU volumes from 2010 to 2017.
Mergers and alliances are causing uncertainty and changing the landscape of the shipping industry. The industry has shifted from four shipping alliances to three leading alliances which, combined, affect 90% of global trade routes. In the short term, these alliances disrupt the industry for tenants while helping carriers stay competitive and reduce costs. With a number of mergers still occurring, control and travel routes will continue to shift.
Larger ships are calling on US ports, passing through the new Panama Canal. In advance of the opening of the Panama Canal, ocean carriers ordered larger vessels to deploy across all cargo types. To accommodate these vessels, US ports led efforts to employ new cranes, dredge channels, have deeper berths and remove air draft restrictions. With larger vessels calling on ports, shipping liners are likely to reduce the number of port calls, which will only increase already fierce regional port competition.
Next-day deliveries and autonomous vehicles are bringing the trucking industry to new heights, with new challenges. E-commerce isn't going anywhere, and neither is its dependence on trucking, says JLL. The trucking industry is using technology more than ever to increase efficiency from the first to last mile, but congestion on the roads is getting worse. The only true resolution is a complex multi-year decision that would impede delivery times and increase operating costs. This provides opportunities for other intermodal sectors such as rail to lessen the burden.
Rail needs to be nimble as competition from other transportation modes intensifies. Viewed by shippers as a cheaper more environmentally sustainable alternative to trucking, the rail industry is expected to grow. With coal transportation waning, the industry is moving away from traditional cargo to being more nimble. Intermodal volumes have been a bright spot for railroads, accounting for more than half of all railcar volumes. This is up from 40% just a decade ago.