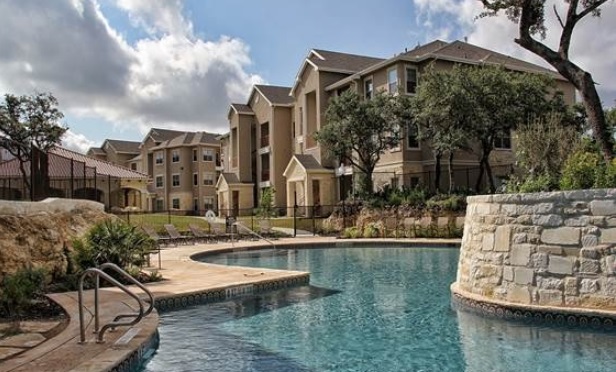 SAN ANTONIO—With average effective rents of $1,025 and 95% occupied, the class-A Pecan Springs in northwest San Antonio paves the way for rent growth inherent in a strong economy. The property is also in close proximity to University of Texas at San Antonio and other major employers, including USAA and the San Antonio Medical Center.
Electra America and its management affiliate, Robbins Electra, recently acquired the 344-unit garden-style multifamily community. With this acquisition, Electra America now owns five apartment communities in the San Antonio metro area. With more than 60 properties in Texas, Florida, Georgia, North Carolina, Virginia and Maryland, Electra's portfolio contains more than 22,500 apartments totaling more than $2.5 billion in value.
"We are thrilled at the opportunity to acquire a newly constructed class-A community in the growing northwest San Antonio market," said Christine DeFilippis, Electra America's chief investment officer. "The San Antonio market has strengthened significantly since we placed the property under contract in May. This particular submarket has successfully absorbed the 2,800 units delivered between 2010 to 2016 or 49% of the inventory. The stabilization of occupancy paves the way for rent growth inherent in an economically strong demographic, supported by the presence of employers like USAA, the San Antonio Medical Center and University of Texas at San Antonio. It was advantageous for us to gamble on this submarket at a risk-adjusted basis to now realize the rent growth opportunities."
Regarding the submarket's demographics, GlobeSt.com learns the population is 114,739, the median age is 33.8, the median household income is $59,609, with 57,275 employees at a 1.88% growth rate, according to Data USA.
Additionally, DeFillippis noted that Pecan Springs offers a light value-add component. Electra will add washers and dryers to all units and upgrade amenities to be competitive with other comparable properties in the market.
Built in 2013, Pecan Springs features one-, two-, and three-bedroom units. The community is designed to accommodate residents with a range of amenities, including a swimming pool, fitness center, dog park and dog wash, and gated access.
Located at 5511 Pecan Springs Rd., the community is located near a variety of shopping, dining and entertainment options, including The Shops at La Cantera. In addition, it is in close proximity to Texas State Highway Loop 1604 and Interstate 10.