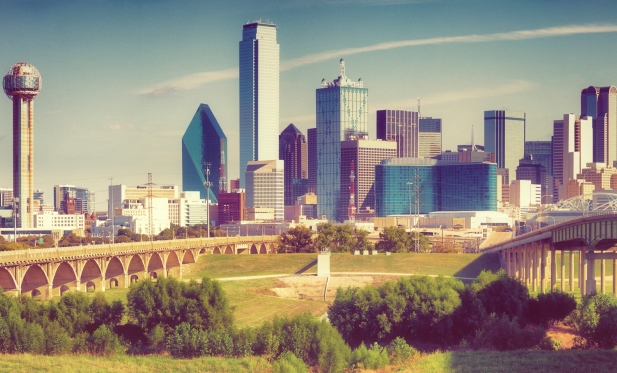 DALLAS—Texas is attractive to many companies due to its absence of state income tax. And, for tech companies, Austin has long been the golden child, but Dallas-Fort Worth has slowly been cultivating a lively startup community. Its strong entrepreneurial spirit and growing walkable community have generated a sizable tech presence in recent years, says JLL.
But that hasn't always been the case. In the 1950s, telecom companies, Texas Instruments and Collins Radio (later Rockwell Collins), formed the first Telecom Corridor in Dallas, but the city was still widely recognized for its oil, gas, banking and real estate markets.
After losing tech talent and tenants to other second-tier tech hubs, the city and local stakeholders worked to reverse the flight to bigger markets. Area accelerators, universities, corporations and nonprofits began engaging with the tech community to connect entrepreneurs and investors, elevate innovative ideas and entice talent to call Dallas home, says the JLL analysis.
DFW has since diversified its industry with leaders in wireless communications, semiconductors, software and more. It is consistently ranked as a top 10 technology patent generator in the United States, and its historic roots in defense continue to drive aerospace innovation and demand for engineers. In addition, North Dallas/Fort Worth's Silicon Prairie is known for the high concentration of semiconductor manufacturing, telecommunications and other information technology-related companies in the area.
"The whole idea of Silicon Valley being the only place that things can happen is going away. We happen to have an expertise of real estate in Dallas and a lot of tech talent that people don't think about with AT&T, Texas Instruments, Bell Helicopter, Lockheed and telecom companies with headquarters or main offices in the DFW metroplex," Copley Broer, founder and CEO of LandlordStation, and CEO of RadPad, tells GlobeSt.com. "I see parallels here in the real estate technology industry with what happened in Boston and how it became a biotech capital because of their existing medical talent."
To ensure the metro's tech advantage into the distant future, the Dallas Innovation Alliance was formed. It is a coalition of stakeholders from the city of Dallas, corporations, civic organizations, academia and private individuals who are invested in Dallas' continued evolution as a forward‐thinking, innovative, smart global city. Here, the definition of a smart city is one where social and technological infrastructures and solutions facilitate and accelerate sustainable economic growth, resource efficiency and importantly, improve the quality of life in the city for its citizens. Operating from a foundational vision that smart cities are about people and not just technology, the alliance is focused on the end user–building a critical mass of the most highly engaged citizens in the country, GlobeSt.com learns.
The alliance's mission is to develop a scalable smart cities model for Dallas that leverages its distinctive strengths that leaves a legacy of innovation, sustainability and collaboration for future generations. Its goal is to elevate Dallas' status as a city that is not only prepared for but a driving force in shaping the future of cities and providing opportunities for prosperity for its citizens.
For years, Dallas has been engaging in emerging technologies and infrastructure that provides a solid foundation for a fully integrated multi-phased strategy. The alliance seeks to leverage the impact and best practices of these initiatives for maximum benefit to the city including Dallas open data, fiber/gigapower availability, big data research collaboration between UT Dallas and SMU, oncor microgrid project, DART GoPass and mobile solutions, Dallas police department/iWatchDallas, fusion center, IBM Smarter Cities challenge grant, and smart meters and energy efficiency programs.