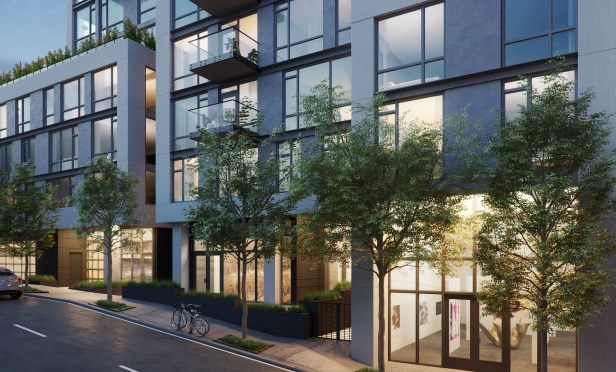 SAN FRANCISCO—In developing The Austin, Pacific Eagle Holdings partnered with the Lower Polk Alley Initiative to reimagine the six alleys extending from the Polk Street commercial spine as urban open spaces, as well as developing new opportunities to engage the community around these improvements. Reimagining Austin Alley is a key component of this initiative and will be an important future value driver for buyers at The Austin, says Pacific Eagle's Hans Galland, who shared his insights in this exclusive.
GlobeSt.com: What is the overall status of the San Francisco residential real estate market?
Galland: Like San Francisco's climate, the city's residential market is fairly complex. It is driven by the interplay of macro-forces and dynamics in specific submarkets. While the tech industry continues to fuel demand and drive up prices, the market is starting to see a higher absorption rate in the mid-to-luxury range. This is particularly the case for new products in SOMA and the Dogpatch with properties actively accelerating absorption. On the other hand, products in established neighborhoods, which is mostly re-sales product, have seen continuous growth in pricing this year. As constrained supply in these locations is resulting in buyers growing weary of bidding wars they keep losing, we have seen the demand continue to grow for new residences in great neighborhoods with a rich offering of local amenities and easy access to transit. Since there are very few new products in established San Francisco neighborhoods, buyers are flocking to projects such as The Austin to combat the housing shortage.
GlobeSt.com: What type of interest has The Austin attracted?
Galland: The Austin began pre-sales early this year and, since then, we've been incredibly successful with our sales efforts. The building offers a wide range of prices, which is quite attractive in this location, presenting a unique opportunity for buyers to own a home in an established and authentic Lower Polk neighborhood. The Austin is slated for completion in mid-December and we're already more than 50% sold. We attribute this positive market response to the quality of products that Pacific Eagle and our affiliates Great Eagle and Langham Hotels are known for, and of course, the tireless efforts by our sales and marketing partners, The Mark Company. They've been instrumental in ensuring a smooth and transparent process that our buyers appreciate.
GlobeSt.com: What are buyers looking for in this market?
Galland: Most of our buyers are looking for a commitment to quality and a sound investment, along with the potential for return in the near future—especially in a market as saturated as San Francisco. While location is paramount, buyers are also looking for walkability, urban living and quality in all aspects of their lives. They want to experience all that the city has to offer outdoors, including proximity to retail, entertainment and transit, while also enjoying world-class amenities at their doorsteps. We found in the Lower Polk Neighborhood a location that combines centrality, accessibility and neighborhood amenities with continued upside value as the CPMC hospital and other nearby projects nearing completion, thereby increasing demand for housing in this area.
In addition, when designing The Austin, we focused on juxtaposing the social energy of the city with a quiet retreat at home. We found that this is what many of San Francisco's discerning buyers want. Furthermore, as the lines between the modern workplace and home blur, buyers want their spaces to exemplify this newfound freedom. As a result, we are offering amenities that entice residents to connect or work in a communal setting that encourages networking.
GlobeSt.com: Where are The Austin's buyers coming from?
Galland: Our buyers to date have run the gamut from local residents to domestic and international buyers and travelers. While for the smaller units, most of our buyers are young professionals who subscribe to a flexible lifestyle. The larger units also see a positive response from empty nesters looking for pied-a-terre residences in the city.
GlobeSt.com: What strategies are developers adopting to smooth the buying process in a highly competitive market?
Galland: Developers are pulling out all of the stops to get the buyer's attention and close sales, from effective sales and marketing campaigns to hiring the most knowledgeable sales and marketing experts. They are also using the power of technology to attract international buyers by providing them with virtual tours to help them understand what it would be like to live in this trendy San Francisco neighborhood. It is extremely important for developers to ingrain themselves in the neighborhoods they serve. Having been headquartered in San Francisco for more than two decades, Pacific Eagle has a long-term interest in the city. In short, we are vested in the neighborhood and hope to pass the value of our city initiative activities on to our buyers.