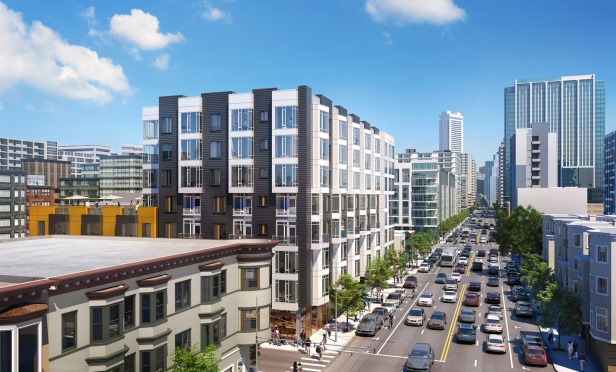 SAN FRANCISCO—The new mixed-use residential community at 360 5th St., developed by Trammell Crow Residential and designed by KTGY Architecture + Planning, was recently approved by the planning commission. The new $95 million development located in the SoMa district includes 127 apartment homes and more than 9,300 square feet of retail and creative workspace on .53 acres. The building faces 5th Street, a major arterial, and is bound by Clara and Shipley streets.
Trammell Crow and KTGY worked with the surrounding community to respect the area's considerable history while providing new residences to the area. Connecting the new building with its neighborhood and the city was a major focus of the design. TCR's plans for the new development include creative workspace and some retail spaces at the ground-floor level, further preserving the sense of community for SoMa. This area is home to artisan and craftsman businesses, and the local community prides itself on the "makers" arts community.
Adding new residential units to this neighborhood as well as creating 8,011 square feet of space for production, distribution, repair and arts activities uses, and 1,300 square feet of retail will enhance this area, project insiders indicate. The development also includes streetscape improvements along Shipley, 5th and Clara streets to greatly improve the pedestrian experience.
"Incorporating the step-backs in 360 5th St.'s building design was a great solution to address the city's design guidelines and provide abundant natural sunlight to the units and the adjacent neighbors," Bruce Dorfman, senior managing director of Trammell Crow Residential's Northern California division tells GlobeSt.com. "We have received some interest from condo developers to buy the site at 360 5th St. but we are still considering building this development as apartments. It is such a difficult process to entitle quality in-fill sites in the city and replace this opportunity that we would be reluctant sellers."
According to Jessica Musick, associate principal in KTGY's Oakland office, the design makes maximum use of the building envelope under the current zoning, with five levels of Type III construction over three levels of Type I.
The location's proximity to public transportation and high walkability score resulted in a minimal number of parking spaces being incorporated in the development. 360 5th St. has transit accessibility and will be augmented by the Central Subway, one of the biggest infrastructure projects in the city. The new line will serve destinations along the 1.7 miles from SoMa to Chinatown including Moscone Center and Union Square. Located just blocks from one another, 360 5th St. and the Central Subway are both planned to open in 2019.
In addition to 360 5th St., Trammell Crow Residential, in a joint venture with Washington, DC-based The Carlyle Group, also received city approval on its 185-unit apartment complex project at 975 Bryant St. in SoMa, said Dorfman. TCR plans to break ground by next summer, which is adjacent to Airbnb's headquarters in the Design District. KTGY is the architect of record for 975 Bryant St. The Carlyle Group and Trammell Crow have partnered on $500 million in projects across the country, Dorfman tells GlobeSt.com.
Trammell Crow's 234-unit mixed-use apartment community in Oakland, Alexan Webster at 2330 Webster St., is under construction and is slated to open in spring 2019, added Dorfman. The project is located in Oakland's Lake Merritt neighborhood, which involves redeveloping a public surface parking lot in a public/private venture with the city.
The $135 million project includes the development of a replacement parking structure owned by the city, a luxury apartment community with retail space and a public art installation. KTGY is the project's designer.
Additionally, KTGY has designed portions of Alameda Point Town Center master plan for Trammell Crow Residential, which is the first phase of the redevelopment of the former Naval Air Station in Alameda, CA, and Napa Creek condominium development project in Napa, CA.
"TCR is continuing to look for more in-fill residential and mixed-use development opportunities in the core Bay Area markets that have a high walk score and are situated near transit. They might include challenging entitlement issues and/or re-use, whether it be a functionally obsolete retail, office or industrial warehouse use," Dorfman tells GlobeSt.com.