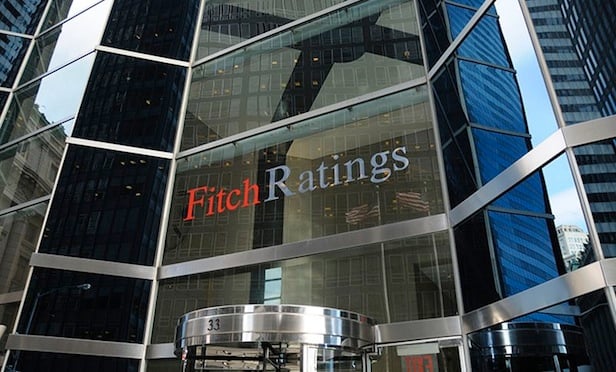 NEW YORK CITY—2016 may mark the end of a five-year streak of declines in CMBS loan defaults, says Fitch Ratings. The slight uptick in new defaults this year is a byproduct of the current credit cycle maturing.
It was thanks largely to improving real estate fundamentals that 2015 saw the CMBS annual default drop to 0.4%, its lowest since 2007. The 181 loans that defaulted last year represented a 34% decline from 2014's tally, and the '15 total was more than 10 times lower than the peak seen in 2010.
Furthermore, although cumulative defaults totaled $90.8 billion at year's end, up from $88.1 billion in '14, in fact the cumulative default rate in '15 fell to 13.0% from 13.3% the year before. Fitch notes that this marked the second year in a row and only the second time since Fitch started tracking default data that the cumulative default rate has declined. "New issuance volume has increased the study's denominator at a faster pace than new defaults," according to Fitch. That being said, Standard & Poor's recently joined Morgan Stanley in lowering its outlook for new CMBS issuance this year, cutting its estimate to around $80 billion from $100 billion previously.
"Commercial real estate markets had another good year in 2015 as the economy continued to grow, healthy new issuance volume provided ample liquidity and new construction remained generally muted," says Brook Sutherland, senior managing director at Fitch. This year, Fitch says, CRE markets are expected to remain healthy, although the increases in rents, occupancy and property prices seen over the last several years are likely to moderate.
And at this point, many of the problem loans originated during the previous peak have already defaulted or been disposed of. That being said, "maturity defaults also stand to increase in the next few years as peak vintage loans, many of which are over-levered, mature," Sutherland adds.
It was loans from those peak vintages, 2005 through 2007, that led new defaults in '15, as they have each year since 2009. Peak vintage defaults made up 87.9% of all defaults and constituted 42.5% from '07, 31.4% from 2006 and 14.0% from '05, Fitch says.
GlobeSt.com reported last week that Trepp LLC sees "negative macro factors coming from the top down" as an impediment to the CMBS market's ability to handle "the next seven quarters of increasing maturing volumes." Among those negative macros were declining oil prices, the Federal Reserve's first increase in the federal funds rate since before the downturn and concerns about growth in China, all of which have led to "quickly widening new-issue CMBS spreads."
Fitch notes that CMBS is expected to see a lower issuance volume this year, thanks to the confluence of macroeconomic and regulatory factors cited by Trepp. "Loan demand is expected to remain strong as loans originated in the peak years of '05-'07 continue to mature and seek refinancing," Fitch says. "However, without additional equity contributions, many of these loans may not be able to refinance." Along with macroeconomic factors causing market disruptions, Fitch sees continued declining underwriting standards, the potential for higher interest rates and "the maturity wall of loans" from '06 and '07 as challenges to the CMBS market this year.