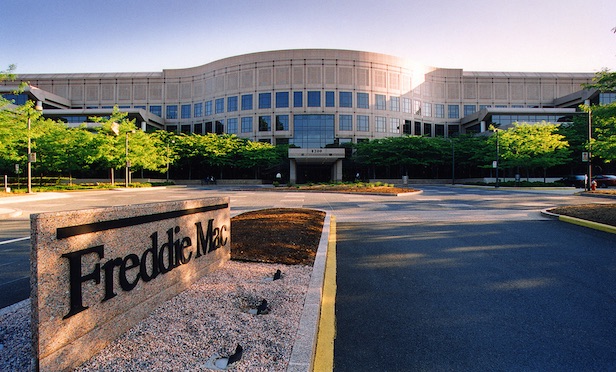 MCLEAN, VA—Multifamily investment fundamentals remain strong both nationally and in most of the 13 major metro areas tracked by Freddie Mac in its quarterly Apartment Investment Market Index, although there are signs of moderation. Reflecting data for the first quarter, the latest AIMI shows the index up slightly—0.30%—to 107.4 from 107 in Q4 of 2015. However, Freddie says that on a year-over-year basis, AIMI continues to trend down, both nationally and in 12 out of the 13 metro areas it tracks, as property value growth exceeds NOI growth in a flat interest rate environment.
"The stability in national AIMI values underscores the essential strength of the multifamily market for potential investors," says Steve Guggenmos, VP of Freddie Mac Multifamily research and modeling. "Property price and NOI growth continue to outperform their historical averages in the majority of metros." He adds that despite relatively high multifamily construction, "the overall strength in the labor market and underlying demographic trends are creating robust demand for new multifamily units."
The sole exception in the year-over-year downward trend among the metro areas covered in the AIMI was Chicago, which was up 0.85% on a Y-O-Y basis to 116.64, although down 0.58% from the prior quarter. Locally, Orlando and San Francisco experienced the largest Y-O-Y declines—down 12.44% and 9.03, respectively—albeit for different reasons.
In Orlando, strong demand for multifamily units drove up NOI and property prices during Q1, while in San Francisco, NOI growth has started to moderate. Meanwhile, in Houston, NOI growth fell and property prices flattened in response to low oil prices. The index also reports local conditions for Atlanta, Austin, Dallas, the District of Columbia, Los Angeles, New York, Philadelphia, Phoenix and Seattle.
On a national basis, the Q1 index reading of 107.4 represents a Y-O-Y decline of 3.22% and a 0.62% drop from the average. The comparable quarter is Q4 2004 at 106.2, according to Freddie.
Demonstrating the strength of fundamentals underpinning multifamily, Freddie's latest AIMI shows that annual growth in employment is 1.92%, compared to 0.64% historically. Building permits are up 16.54% year-over-year, compared to 113.32% over the 2000-to-2007 period.
NOI growth is nearly triple the historical average—4.22% versus 1.44%, although it's offset by an even steeper increase in property pricing: up 8.34% Y-O-Y, versus 7.59% historically. The fact that pricing is up faster than NOI suggests that "investors are paying more per dollar of income," according to Freddie.
However, the index was flat over the past quarter, and therefore the increase in NOI along with the slight decrease in mortgage rates was enough to offset the increase in property prices. Property price growth decelerated in Q1 to 1.2% compared to an average of 2.4% over the previous four quarters. "Relatively high multifamily construction is causing NOI growth to decelerate generally, but growth continues to outperform the historical average due to strong demographics and the overall strength in the labor market creating robust demand for multifamily units."
Freddie Mac's AIMI combines multifamily rental income growth, property price growth and mortgage rates into one Index to give investors and market observers an objective view of market investment conditions. It's indexed to Q1 of 2000.
Steady gains in the US economy have resulted in net positives for the multifamily sector—will this wave continue for the foreseeable future? What's driving development and capital flows? Join us at RealShare Apartments on October 19 & 20 for impactful information from the leaders in the National multifamily space. Learn more.