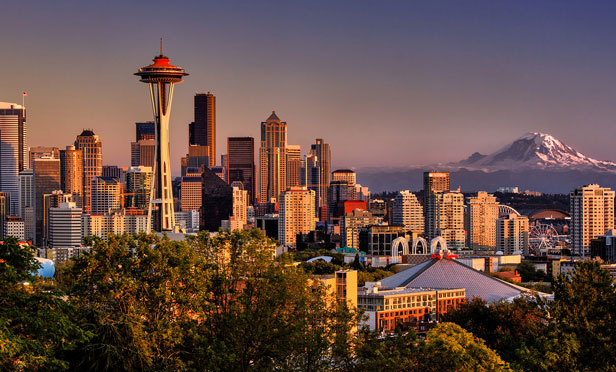 SEATTLE—Now the most populous generation in US history, Millennials are also narrowing the gap in spending power between themselves and Baby Boomers. The 25- to 34-year-old age group in particular has brought its employment rate to a level in line with the overall population, and the jobs they're taking frequently start in the six-figure range.
Given that Millennials have shown a decided preference for renting, at least for the foreseeable future, it stands to reason that they're influencing development trends in new multifamily construction. Although walkability remains the key consideration in choosing an apartment, Millennials' priorities when it comes to amenities also play a big part, David Sorensen, associate director in Berkadia's Seattle office, tells GlobeSt.com.
"Developers are catering to these renters by creating units that aren't necessarily as big or have as many unit-specific amenities as they might have in the past," says Sorensen. Rather than new developments featuring large one-bedroom units, "it's more open one-bedrooms and more studios. And rather than having big kitchens with entertainment space within the units, the units are smaller but there's additional amenity space in the building, or a bigger gym or more collaborative workspace with a coffee machine."
He cites the example of a developer who had put up a Millennial-friendly multifamily project not far from Amazon's headquarters about a year and a half ago, and recently went back to take a quick tour. "He went through a few units and was shocked to see how many people still had the original plastic wrap on the appliances," Sorensen says. "So that's really the story of what this demographic values; it's not necessarily 'do I have the nicest stove,' it's more 'what is in this building that will draw me to it versus other buildings.'"
The concept of mixed-use development is also getting a Millennial spin. "In the past, when you had a retail space within an apartment building, it seemed to be without question that a developer would look for a tenant that was very stable, probably a national credit-type tenant—think a bank or a drugstore," says Sorensen. "But in order to create a brand and a cool factor within the building, we're seeing developers move past those traditional types of tenants and work with local bar owners or local restaurateurs."
These food- and beverage-oriented tenants may not enjoy the same level of creditworthiness, "and it's probably going to cost the developer more in terms of tenant improvements before they sign the lease. But they're willing to take that bet and say 'because we're going to have a cool identity for our building, we'll attract more Millennial renters who in turn will pay higher rents' to live there.
He cites the example of a local restaurateur whose locations follow a farm-to-table theme, and a developer that will open a new location for the restaurateur within its new project. "They actually put a chicken coop on the roof of the building to use the eggs within the restaurant," Sorensen says. The developer used the farm-to-table theme to create a buzz and brand recognition that wouldn't have been seen in apartment buildings of earlier generations.
"You've got a space where you could put in a Walgreens or something like that, but instead they put in a local restaurateur who's got some cache," he says. "So you're starting to see some unique things that really are tailored toward Millennials."
Creating points of differentiation is especially crucial in a Millennial stronghold like Seattle, yet Sorensen sees this principle applying to many markets across the US. "When you've got a large segment of the population that definitely are going to be renters for at least the foreseeable future—for example software engineers that are definitely making six figures—it really has gotten competitive," he says. Whether it's a restaurant with a rooftop chicken coop, "an especially high-end gym with towel service, or putting in additional collaborative workspaces with much stronger WiFi than you typically see—those are the types of things that developers are doing to set themselves apart."
Steady gains in the US economy have resulted in net positives for the multifamily sector—will this wave continue for the foreseeable future? What's driving development and capital flows? Join us at RealShare Apartments on October 19 & 20 for impactful information from the leaders in the National multifamily space. Learn more.