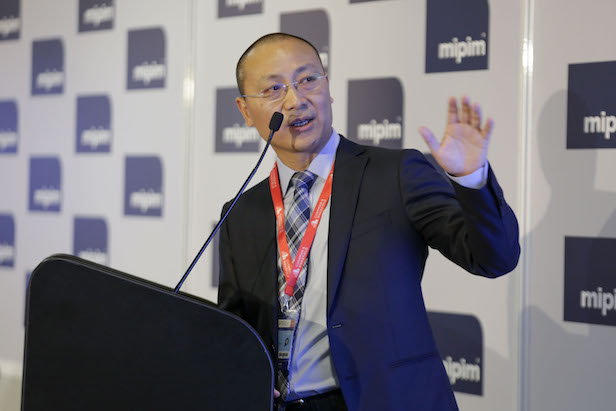 CANNES, FRANCE—The Chinese investor into commercial property in 2017 is casting a wider net while at the same time bringing a greater depth of understanding to transactions, a MIPIM 2017 audience was told Wednesday. The speaker, Fosun Property Holdings CEO Alex Gong, charted his own organization's experiences both as an example of broader trends and as an explanation of the group's particular strategy.
Fosun Property, the real estate arm of Fosun Group, is seeking to diversify its portfolio outside of China, in common with many larger Chinese players. In the case of Gong's organization, the portfolio is still largely domestic, with 80% of Fosun Property's real estate holdings in 33 major Chinese cities. That level of concentration has Gong "worried"—not about the quality of the real estate, but about the percentage that is tied up in an increasingly competitive, and expensive, domestic market.
Speaking more generally, Gong said key players in his country were "trying to replicate in the US or Europe what they're good at in China,' whether it's acquisition or development. Fosun Property itself focuses on development and on landmark building acquisitions—such as One Chase Manhattan Plaza in New York City, which it bought in 2013—as well as acquiring asset management platforms. Last July, for instance, it acquired Rio Bravo Investimentos, adding the Brazil-based fund manager to its global network.
While Rio Bravo's focus is on Latin America, Fosun Property has also taken a global view with some of the additions to its platform. The company took over majority ownership of Club Mediterranee SA, the French-based seller of all-inclusive resort vacation packages, in early 2015. In turn, Club Med has been able to make inroads into the growing Chinese market thanks to its new ownership. Gong also has a seat on the board of Cirque du Soleil and is developing a venue in Shanghai for the entertainment company, on grounds that specialized content "makes your real estate unique." Fosun Property holds a 20% share in Cirque, with TPG Capital owning the rest.
Although Fosun Property favors global gateway cities—like a number of other major Chinese investors—Gong pointed out, "Emerging markets are not emerging markets anymore." By that he meant that the risk profile of acquiring properties in these countries may be lower than in some of the gateway markets, in part because pricing is still relatively attractive. "For the price of a portfolio of office in London or Paris, you could probably buy half of Mumbai," he quipped.
The London/Mumbai comparison illustrated one of the four drivers of Fosun Property's strategy: market & cycle, with the other three being diversification & balance, performance and structural opportunities. Although his firm has already planted its flag there, Gong said he's reluctant to buy in New York at the moment—"and not because of Trump," he pointed out. Rather, it has to do with where that market is in the cycle; currently Manhattan is a super-competitive landscape that could find Fosun Property going up against comparatively local players such as Brookfield or the Blackstone Group.
In the near term, the Chinese government is seeking to tighten the flow of outbound capital. However, Gong didn't see the government's stance having much of an effect on Chinese firms' ability to invest outside of their homeland, pointing out that they've become skilled at raising offshore capital.
The caution that once limited outbound Chinese players to a handful of markets and sectors is giving way to both greater confidence and more sophisticated understanding. "More markets are going to be doable, or explorable, for us," Gong said.