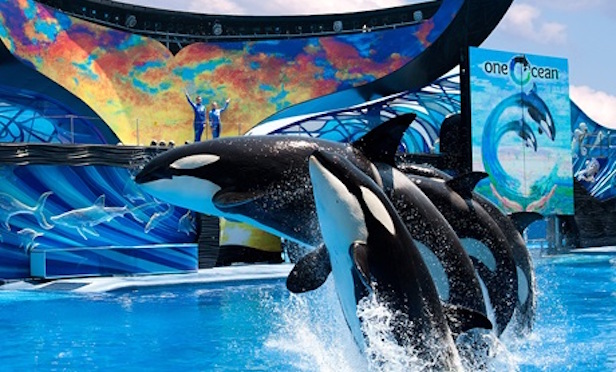 ORLANDO, FL and BEIJING—The Blackstone Group is selling its remaining 21% equity interest in SeaWorld Entertainment Inc., the theme-park operator it acquired in 2009, to China's Zhonghong Zhuoye Group. At $23 per share, or approximately $429 million, the sale represents a premium of nearly 33% over Thursday's closing price on SeaWorld shares.
SeaWorld and Zhonghong Group have also reached a series of advisory services and support agreements. Under terms of the deal, SeaWorld will advise Zhonghong exclusively on the concept development and design of theme parks, water parks and family entertainment centers which Zhonghong Holding, an affiliate of Zhonghong Group, will develop and operate in China, Taiwan, Hong Kong and Macau.
Additionally, Zhonghong has entered into a stockholders agreement with SeaWorld and will have two seats on the company's board. Yoshikazu Maruyama, president of Zhonghong Group's American operation, and Yongli Wang, chief strategy officer of Zhonghong Group, will become directors, thereby increasing the board's membership from nine to 11.
"Zhonghong Group is making a significant, long-term investment in SeaWorld, reflecting their appreciation of the strength of our brand, our potential to grow the company and a shared commitment to protect wildlife and the environment," says Joel ManbySeaWorld's president and CEO. "Zhonghong Group has a strong track record of performance in the leisure and travel industries, and a solid management team with valuable experience in theme parks, family entertainment and real estate development in Asia."
The sale to Zhonghong, which is expected to close in the second quarter, marks the end of Blackstone's seven-year investment in SeaWorld. The asset management giant acquired SeaWorld, which operates theme parks across five US states, from Anheuser-Bush InBev NV for $2.3 billion in December '09.
Blackstone and its co-investors put about $1 billion into the acquisition, according to Bloomberg Business. They paid themselves $610 million in dividends in 2011 and 2012 before taking the company public in 2013, and sold $1.7 billion in stock. The sale to Zhonghong thus caps a nearly 300% return on the initial investment, according to Bloomberg.
The deal with Zhonghong marks at least the fourth major real estate sale Blackstone has made to a Chinese firm. In late 2014, Blackstone's Hilton Worldwide Holdings agreed to sell the iconic Waldorf-Astoria in Midtown Manhattan to Anbang Insurance Group for $1.95 billion.
Anbang would later buy Strategic Hotels & Resorts from Blackstone for about $5.5 billion, not long after Blackstone took the lodging REIT private. And earlier this month, Blackstone completed the sale of a 25% stake in Hilton to HNA Group for about $6.5 billion.