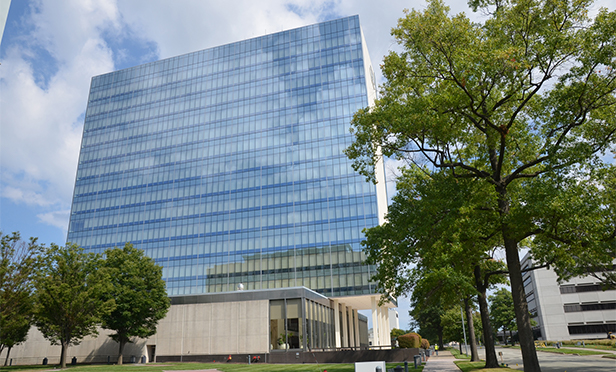 CLIFTON and NUTLEY, NJ—Cushman & Wakefield has been tapped by Prism Capital Partners to lease the office space at Prism's redevelopment of the former Hoffman-La Roche Inc. North American headquarters campus. Spanning 116 acres across the Township of Nutley and City of Clifton, the campus is being redeveloped as ON3, and is projected to be the largest redevelopment in the state.
A C&W team headed by Robert Rudin, Bill Brown and Josh Cohen is marketing two immediately available office properties at ON3. They include the 15-story, 300,000-square-foot Building 76, extensively modernized to LEED Gold standards prior to the sale of the campus, and seven-story, 255,000-square-foot, class A facility. A variety of development sites are also being offered as build-to-suit opportunities on the campus.
Rudin calls ON3 "arguably the most robust project in our region's development pipeline. Prism's unwavering focus on the longevity of the site—which hinges on assembling an appropriate mix of uses, such as the addition of supporting retail and residential—promises to attract best-in-class corporate users. With its strategic location on Route 3, sandwiched between the Garden State Parkway and the NJ Turnpike just nine miles from the Lincoln Tunnel, ON3 is queued up to be a highly sought-after business address."
PB Nutclif I, LLC, an affiliate of locally based Prism Capital, purchased the ON3 property this past October. As previously reported by GlobeSt.com, Hackensack Meridian Health and Seton Hall University have committed to leasing two major buildings and 16 acres at the property.
Improvements to convert those facilities to accommodate the needs of the new Seton Hall-Hackensack Meridian Graduate School of Medicine are underway. Seton Hall will co-locate its College of Nursing and School of Health and Medical Sciences at the site, while Hackensack Meridian—which announced a merger Tuesday with JFK Health in Edison—plans to create a National Health Institute-designated Clinical Research Center there as well.
Prism says approximately 150,000 square feet in R&D/lab facility leases for state-of-the-art existing product are currently in negotiation. "We already have an outstanding, long-term anchor in place and mounting interest for opportunities at ON3," says principal partner Edwin Cohen. "At the same time, we are working closely with the Township of Nutley, City of Clifton and a team of consultants to develop a vibrant mixed-use, multi-user plan."
Adds Eugene Diaz, principal partner at Bloomfield-based Prism, "Growing demand for 24/7 convenience living is resulting in better-balanced business centers that provide a blend of housing options and appealing amenities. We are committed to producing an attractive and profitable campus," one that is "sensitive to potential concerns about traffic and quality of life for the larger community."