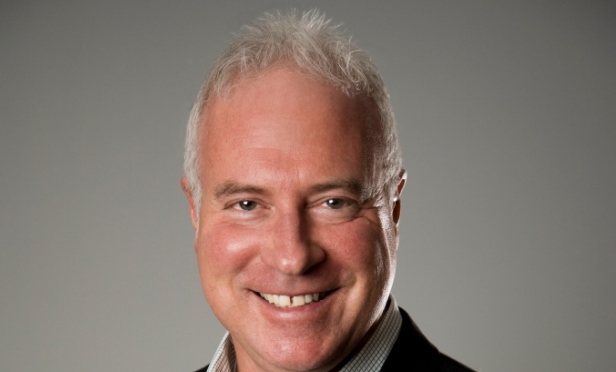 IRVINE, CA—Commercial real estate investment activity reached a three-year quarterly low in the year's first three months, falling below $100 billion for the first time since early 2014, Ten-X said Monday. The firm's latest Commercial Real Estate Capital Trends report shows that at $90.9 billion, quarterly volume in the first quarter was 43% lower than its late-2015 peak, and 18% lower than the year-ago period.
The decline, while not unexpected, occurs even as the fundamentals underpinning CRE remain basically sound. Unemployment has reached a cyclical low of 4.4%, while wage growth continues to be healthy. Yet Ten-X notes that mounting political, monetary and technological questions that face real estate and the economy at large outweigh the positives.
"Uncertainty is always among the greatest threats to continued economic expansion and investment, and commercial real estate is currently facing a multitude of questions that threaten to shift segment and market fundamentals," says Peter Muoio, chief economist at Ten-X. "In addition to a new presidential administration that has yet to signal a clear direction on various issues affecting the economy and commercial real estate, deal flow is being hampered by shifts in Fed policy and political upheaval around the world. Furthermore, investors are exercising caution specifically because of the length of this bull market, as many wonder how long this unusually prolonged recovery can last."
Although the apartment sector's quarterly volume was still enough to comprise the lion's share of transaction activity, it was down a steep 600 basis points from Q4 2016. More modest quarter-over-quarter drops were seen in office and hotel transactions, which declined by 130 bps and 50 bps, respectively. Conversely, retail and industrial both saw their respective shares of total volume increase from the previous quarter.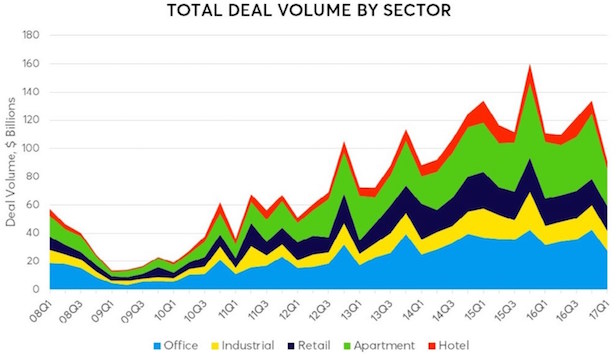 Despite the declines, Ten-X notes that total volume across the five major property sectors remained above its 10-year average by a comfortable margin of 16.22%. On a sector by sector basis, industrial and retail fared best, with Q1 volumes of 30.2% and 26.7%, respectively, above their averages. Multifamily and office surpassed their long-term averages by, respectively, 17.3% and 14.6. Only hotel underperformed its historical average, with the Q1 tally coming in 21.3% below the 10-year average.
Commercial property pricing was up 7.2% year-over-year as of March, per the Moody's/RCA Commercial Property Price Index. However, the Ten-X All Property Nowcast, which measures national pricing through a combination of proprietary and third-party data, continues to be droopy, with pricing contracting slightly in May after gaining 1% in the previous month. That drove pricing to levels 10.2% higher than a year earlier, according to the Nowcast, just below the peak of 10.6% achieved in April.
The All-Property Nowcast showed pricing growth in just two of five sectors. Putting in the worst showing was retail, down 1.2% from the previous month, while industrial and hotel pricing fell 0.6% and 0.2%, respectively, compared to April.
Office pricing rose by 0.3% during May, and is now up 22.3% Y-O-Y, although Ten-X points out that its high annual gains stem largely from a lackluster early '16, and the index has actually been comparatively flat over the past seven months. Apartment pricing has been more consistent in terms of increases, with values in the sector up 15.2% from a year ago.
That being said, office is currently the only sector at an all-time peak price index, as measured by the Moody's CPPI Index. It's up 20.5% over the prior peak, while apartment and industrial each have fallen modestly since setting their own all-time highs over the past few months.