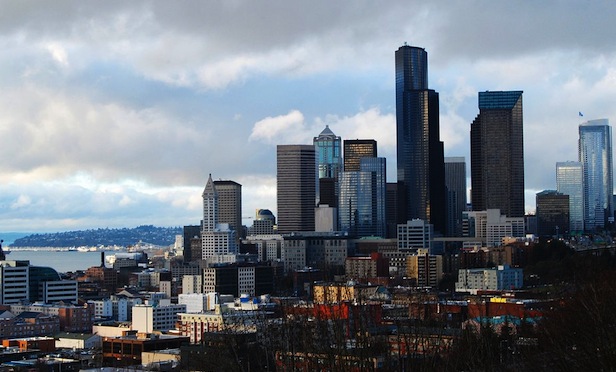 SANTA BARBARA, CA—Completions of new apartment builds have slowed this year, and so have annual rent gains, according to the August Yardi Matrix report, issued Thursday. Multifamily operators eked out an average $1 increase in rents this month, bringing the national average across 121 markets to $1,352 and maintaining a streak of monthly rent gains during 2017.
Year-over-year rent growth nationally was 2.4% in August, a drop of 20 basis points from the previous month. Trailing 12-month growth for the month was 3.1%, down 10 bps compared to July. As for deliveries, Yardi Matrix notes that fewer than 10,000 new units came on line in July and August, compared with the average monthly delivery of 14,500 in the year's first quarter—itself a deceleration of the delivery velocity seen in 2016.
Are tighter underwriting standards for construction loans driving the slowdown in deliveries? No, says Yardi Matrix; instead, it's "the critical shortage of construction workers." Although not a new trend, it's being exacerbated by "the Trump administration's more restrictive immigration policies," the report states.
Yardi Matrix's database shows that roughly one-third of the 480,000 units currently under construction in the US are being delayed by an average of 7.5 months. Northern New Jersey, which has a large immigrant population, leads in the percentage of properties delayed, with about half of the 9,500 units under construction across the region now facing delays in completion.
Accordingly, Yardi Matrix has reduced its forecast for new deliveries this year to 300,000, "considerably fewer than the 360,000 we had expected and only slightly more than the 281,000 that came online in 2016. We now believe that the supply cycle will peak in 2018, with 360,000 new units delivered."
An upside to the delays in new supply deliveries may be seen in trailing three-month (T-3) rent growth. "As construction delays have led to longer development periods and lower-than-expected '17 deliveries, rents have stabilized in some markets that had decelerated as the result of high levels of new supply," the report states.
That has helped bolster higher-end Lifestyle rents, since most construction has been at the luxury end of the spectrum. Over the latest T-3 period, Lifestyle outperformed the working-class Renter By Necessity category, with the three-month rent growth at 0.4% for Lifestyle and 0.3% for RBN.
Two markets characterized by heavy construction, Seattle (0.8%) and Denver (0.6%), appear to be benefiting from the delays in deliveries, says Yardi Matrix. They led the nation in rent growth on a T-3 basis, with gains of 0.8% and 0.65, respectively, during the period. and seem to be benefiting from the delays in deliveries. Other rebounding markets that may have benefited from delays include Boston (T-3 rent growth of 0.6%), San Francisco and San Jose (both with 0.5%), "indicating that demand remains high," according to Yardi Matrix.