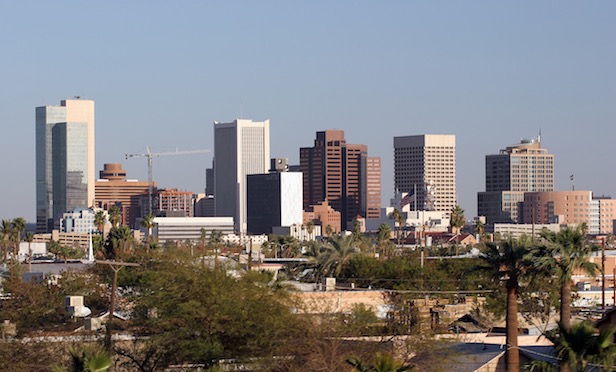 LOS ANGELES—Office vacancies declined 10 basis points during the third quarter to a national average of 12.9%, CBRE said Monday. Driving the improvements were suburban markets, continuing a trend seen over the past few quarters.
Specifically, suburban office vacancies shed 20 bps to end Q3 at 14.1%, while for CBDs the quarterly decline was smaller although the 10-bp drop occurred in an office environment where vacancies are already more than 300 bps lower. Downtown office vacancies stood at 10.6% at quarter's end, and CBRE says improvements were seen in a majority of US markets.
"The slow, steady improvement in the office market continued in the third quarter after a second quarter pause," says Jeffrey Havsy, Americas chief economist for CBRE. "Demand remains positive but modest."
The largest metro-area declines for Q3 were recorded in Trenton, with a 220-bp drop; Las Vegas (140 bps) and Phoenix (110 bps). Tucson, Detroit, Memphis, Stamford and Richmond each declined by 80 bps or more.
This continues a pattern seen over the past four quarters in which vacancy tightening has occurred most notably in mid-sized markets located predominately across the Sun Belt. These include Tucson, Las Vegas, Albuquerque, Louisville, Orlando, Richmond, Detroit, Sacramento, Phoenix, Memphis and Jacksonville.
"September's job report showed continued growth in office-using jobs and that growth is expected to lead to continued but relatively modest positive absorption," says Havsy. "The supply pipeline in certain markets has started to increase and this may lead to a slowing of the vacancy decline in early 2018."
Underscoring Havsy's point, JLL last week reported that office completions outpaced groundbreakings in Q3, and the firm's data indicate a 10-bp increase in vacancies to 15%, representing the fourth such quarterly rise as new supply comes on line. "Vacancy will increase further in upcoming quarters as new deliveries outpace net absorption," according to JLL.
That pace is expected to slacken, though: JLL notes developers and lenders have become more cautious due to oversupply concerns. "Development activity is expected to continue at a moderate pace, suggesting that long-term supply and demand will reach a healthy equilibrium," according to JLL.