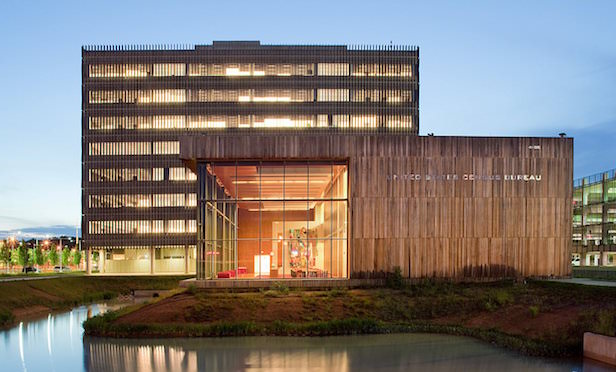 WASHINGTON, DC—Construction spending reached an annualized rate of $1.253 trillion in December, a record high. The monthly gain of 0.7% marked the fifth consecutive increase in private and public expenditures and also beat analysts' estimates.
However, the full-year 2017 total of $1.23 trillion, 3.8% above the previous year's tally, represented the smallest year-over-year gain since a 2.6% decline in 2011. By comparison, spending increased 11% in 2014, 10.7% in 2015 and 6.5% in 2016.
Keeping the annual increase down was public sector spending, which declined 2.5% Y-O-Y, according to Census Bureau figures released Thursday. At the same time, private construction rose 5.8% to $950.7 billion from the $898.7 billion spent in '16. December's seasonally adjusted annual rate of $963.2 billion for private construction also represented a new record.
Within the private sector, residential construction rose 10.6% to $515.9 billion for '17, while the year's tally for nonresidential construction was $434.8 billion, up 0.6% from the year prior. On a monthly basis, spending on single-family construction was up by 0.4%, while that for multifamily rose 2.6% from the previous month. Conversely, residential construction spending by the public sector was off by 3% Y-O-Y.
Outside of residential construction, both the public and private sectors saw gainers and losers over the past year. Private transportation projects saw December's biggest annualized increase of any construction category at 36%, although for the full year, the Y-O-Y increase in spending was a comparatively modest 12.5%.
Other nonresidential private construction categories seeing double-digit Y-O-Y increases were commercial (up 14%) and water supply (15.6%). Private sector spending on public safety construction was down 23.1% Y-O-Y, while expenditures for sewage and waste disposal declined by 48.3%. The biggest percentage decline in public-sector spending was for power facilities, down 28.2%; this category saw a smaller Y-O-Y drop of 4.2% in the private sector.